Carter Aviation Technologies debuted its new Personal Air Vehicle (PAV) prototype at last month's AirVenture.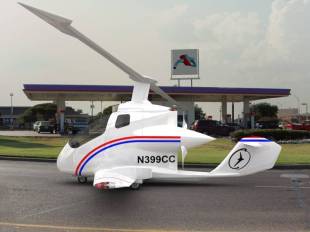 The second generation aircraft demonstrates Carter's slowed rotor/compound technology, which is a combination of rotorcraft and fixed-wing aerodynamics that features vertical takeoff and landing with high-speed flight, according to officials with the Wichita Falls, Texas-based company.
The company plans to offer a series of four designs for sale: a two-place autogyro, a two-place compound gyroplane, a four-place autogyro and a four-place compound gyroplane.
The newest prototype is the four-place autogyro. It has vertical takeoff and landing capabilities with flight speeds of 140 mph and a range of 600 miles at 7,500 feet, according to Anita Infante, vice president of business development and marketing.
The next step up is the four-place compound gyroplane. With a turbocharged engine and added wing extensions, it is capable of 223 mph and a range of 768 miles at 12,500 feet with VTOL capability.
The company, which is celebrating its 15th anniversary this year, spent the last year searching for manufacturing partners to help bring the PAV to market.
"Carter's expertise is in research and development," noted Infante. "We realized more than a year ago that we need expert manufacturing partners to transition our technology into the market."
The company has inked deals with four companies: VX Aerospace of Morganton, N.C., Dynamic Composites of New Zealand, Eagle Aviation Technologies, Inc., of Hampton, Va., and Liberty Aerospace, Inc., of Melbourne, Fla.
Partnership negotiations are on-going, including preliminary discussions as to a new building site for offices and production facilities, she added.
Reaching this point has taken a long time.
Carter's Carter's first, proof-of-concept prototype, the CCTD, was completed in 1998. It was a five-place aircraft with a fuselage design similar to many helicopters with a large, clear, windshield area for good visibility and a rounded, pressurized body, but with a much more substantial tail section (two tail booms), a pusher prop and the addition of long, narrow, high aspect ratio wings. In seven years of flight testing the CCTD provided valuable flight-test data and confirmation of the viability of Carter's goal, according to Infante.
On June 17, 2005, the CCTD, while flight-testing under a U.S. Army contract, became the first rotorcraft to achieve an advance ratio of Mu-1. It accomplished this at a speed of 173 mph, a rotor rpm of 107 and an L/D of 7:1.
"Our development process has been difficult and time consuming," acknowledged Jay Carter Jr., president. "We had to develop ways of doing things that had never been done before. In addition to developing a totally new technology, we had to develop ways to test it and prove it. There were nine basic technical issues that we had to overcome. All of these were related to the rotor, particularly at low rotor rpm as we increased aircraft speed. Over the last 15 years, we have not only proven our technology, but now feel that we are at a point where it is refined for market."
For more information: CarterCopters.com