The Ninety-Nines have established a memorial scholarship in the name of Vicki Cruse, International Aerobatic Club president, who died Aug. 22 when her single-seat Zivko Edge 540 crashed during a training session for the World Aerobatic Championships.
The Vicki Cruse Memorial Scholarship, which will be administered through the Ninety-Nines' Amelia Earhart Memorial Scholarship Fund, will provide financial aid to women pilots for emergency maneuver and aerobatic training.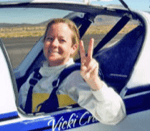 "Vicki touched many of our lives, inspiring some to pursue advanced training, or even become aerobatic competitors themselves," said Marion Nauman, past chairwoman of the Ninety-Nines' Ventura County (Calif.) chapter, Cruse's home chapter within the international organization. "Vicki's devotion to perfecting flying skills and her many accomplishments will serve as an inspiration to future generations of pilots."
The Ventura County 99s have established a "Remembering Vicki" website at Ennect.com/e808 as a tribute to Cruse and a way for the aviation community to contribute to the scholarship. Each dollar donated to the Vicki Cruse Memorial Scholarship over the next five years will be matched, up to a maximum of $30,000, 99s officials said. The Ventura County 99s pledged $5,000 in matching funds, while Lightspeed Aviation has pledged to match up to a maximum of $25,000.
Cruse, 41, won the U.S. National Unlimited Aerobatic Championship in 2007, and was a four-time member of the U.S. national team. She served as IAC president since 2005 and was also a board member of EAA and Unlimited Aerobatics USA Inc. Along with other awards, she achieved the All Ten Achievement Award, 1998 U.S. Sportsman National Aerobatic Championship, and 1999 and 2000 Champion of the Americas.
-30-