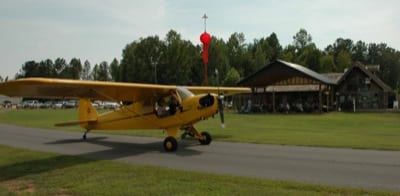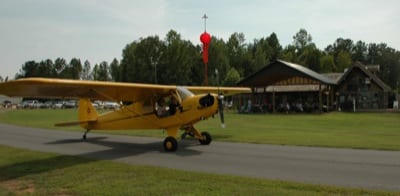 By BILL WALKER, For General Aviation News
Roland Gilliam's dream was a familiar one for pilots: He wanted his own airport.
In 1994, at age 54, he stopped dreaming and built 5NC3, Gilliam-McConnell Airfield at Carthage, N.C. Since then, his personal airport has developed into a business enterprise that will not stop growing.
It all began with a friend who wanted to build a house alongside Gilliam's 2,500-foot runway. Gilliam sold one lot, then another and another. Before he knew it, he owned an airpark.
Carthage and the surrounding Pinehurst/Southern Pines area is great golf country, so many pilots brought their clubs along. How about building a driving range, one of them proposed? Gilliam agreed.
With the increased traffic at the field, an A&P decided to open a repair shop. Same story for the avionics shop and the organizer of biplane and helicopter rides. Why can't we buy fuel here, someone asked? So Gilliam put in a tank and often pumps the fuel himself.
A restaurateur wanted to sell barbecue from a mobile van. That van turned into the Pik N Pig, one of the most popular restaurants in the area and one of the best fly-in restaurant in the Carolinas.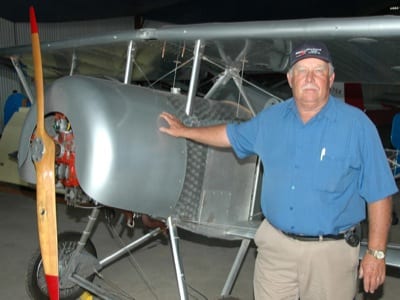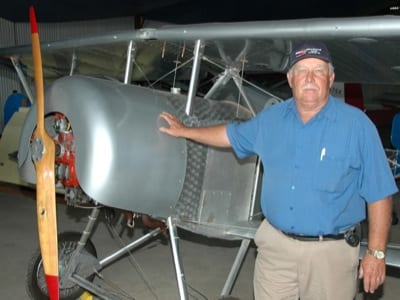 There's also the matter of Gilliam's airplanes. He began flying as a teenager and has been at it more than 50 years, doing crop dusting and banner towing along the way. His first was an Aeronca Champ, but that one plane grew into hangars filled with three World War I biplane replicas, a Mooney, a Twin Commander and a Stearman. One of the World War I planes, an S.E. 5, was in the movie, "The Aviator." These days, 22 planes, including Gilliam's, are based at his airfield.
Best of all, said Gilliam, is the fact that income from all the enterprises pays the bills. "There is no mortgage for Gilliam-McConnell Airfield," he said.
In fact, he has made money in aviation, a rarity many would say. "And I put the profits back into improving the place," he added.
On a recent Sunday afternoon, Gilliam, who turns 70 this year, stood behind the counter of yet another airfield enterprise, a gift shop called The Pilot's Wife. The shop is attached to the restaurant and it was Nancy, Gilliam's wife of 40-plus years, who decided a gift shop was needed to complete the airfield experience for visitors.
Also in the works: 15 recreational vehicle camping pads with full electrical, water and sewer hookups.
"I'm always adding something," Gilliam said.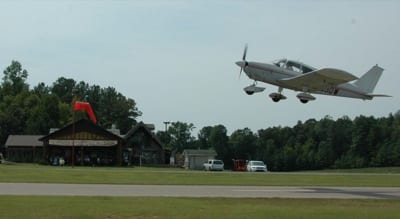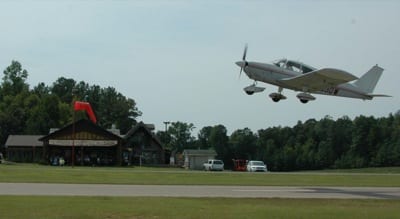 Gilliam, the owner of a construction company, started clearing land for the airport in 1991.
"It was nothing but a forest here on the edge of Carthage," he recalled. "We decided to pave the runway in 1994 and it started out as a private strip for me just to fly off of. Now I've got nine property owners and we've built six houses so far."
Gilliam's construction company built all six houses.
His company is not only in the house-building business, but is also involved in underground utilities, treatment plants and general contracting.
"If I hadn't had the equipment I probably wouldn't have built the thing because it would have been too expensive," he said.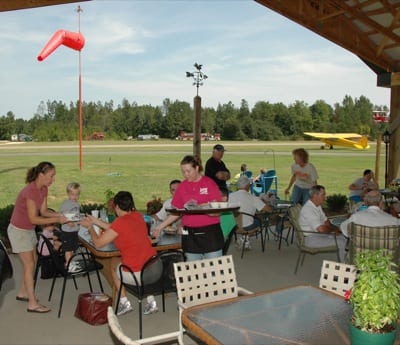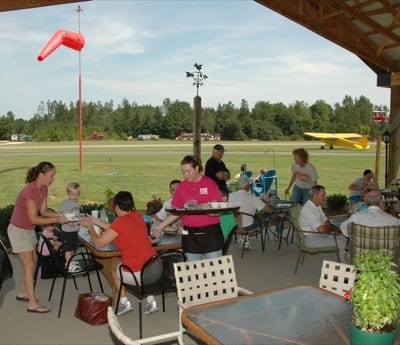 The airfield's popularity surged about two years ago when The Pik N Pig opened, Gilliam said. "We've had as many as 50 planes in here at one time," he noted. "They are doing as well or better than any other restaurant in Moore County. People really like coming out here and eating and sitting in a grassroots atmosphere watching airplanes take off and land.
"As we all know, the secret to a fly-in restaurant is to have good local support — and we have very good support," he continued. "Usually there is a waiting line to get in. That's one reason I put the canopy over the patio to give them more seating. Now, doggone it, they got a waiting line there too."
Janie Sheppard runs the Pik N Pig with her son, Ashley. Their specialty is hickory-smoked pork prepared from a family recipe three generations in the making.
She noted that, except in the hottest of weather, her patrons prefer to be outside close to the planes. That's why Gilliam enhanced the airplane watching experience by building a winding taxiway near the front of the restaurant.
Like to try it out? The restaurant is open Tuesday-Saturday 11 a.m.-8 p.m. and noon-3 p.m. on Sunday. For more information: Pik-N-Pig.com.
As for Gilliam, he says it is "very, very gratifying" to own his own airfield.
"I hate to sound corny, but it is a dream I've had for many, many years and, just luckily I was able to make it happen," he said. "If I hadn't been in the right place at the right time, bought the land at the right price and been in the construction business, I couldn't have afforded to have done it. It cost enough as it was."
GETTING THERE
Gilliam-McConnell Airfield is on the Charlotte sectional (N35-20-30 W079-26-13) seven miles north of Moore County Airport (SOP, AWOS 127.575). Common traffic is 122.9. Runways are 13/31. Trees surround the field. Field elevation is 445 feet. For those approaching via the Fayetteville area, there is restricted airspace around Fort Bragg. A call to Fayetteville Approach at 127.8 is advised.
WHO IS McCONNELL?
First-time visitors often ask who — and where — is McConnell?
"I tell them McConnell hasn't been around in 93 years and doesn't help me any," Gilliam said with a laugh. "I then explain that the name honors James Rogers McConnell, one of seven founding members of the World War I Lafayette Escadrille, a squadron of American pilots fighting for France."
McConnell left his adopted hometown of Carthage to go to France in 1915. First a driver for the American Ambulance Corps in the conflict, he eventually became a founding member of the Escadrille. McConnell was killed in aerial combat in 1917. He wrote the book "Flying for France," which was published after his death.