Dan Johnson, president of the Light Aircraft Manufacturers Association, is an expert on Light Sport Aircraft.
Terrafugia has been getting tons of press and no wonder. The MIT brain trust developing the Transition is breaking new ground in numerous ways. While we await their sophisticated "roadable airplane," a simpler flying car concept won its SLSA approval Sept. 28. Entering the SLSA List at #110… welcome I-tec Maverick. Like Transition, this is one clever critter.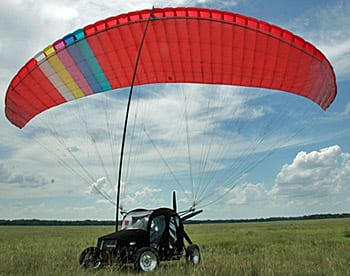 Unlike Transition, Maverick does not need to meet federal motor vehicle standards. It's classified as a kit car and is thereby exempt from those onerous requirements. Though I-tec Design Manager Troy Townsend drove it 1,400 miles from central Florida to Oshkosh, Maverick was created to be more of an off-road vehicle. Company videos appear to show Maverick is well suited to this role (plus they're well edited and fun to watch).
"The Orlando office of the FAA issued a historic Special Light Sport Aircraft airworthiness certificate to I-tec," stated the company. Troy clarified, saying this was "the first-ever certificate issued for a vehicle that drives and flies."
Maverick is the culmination of six years of R&D by I-tec — the Indigenous Peoples' Technology and Education Center — a Christian non-profit humanitarian organization based in Dunnellon, Florida. I-tec is lead by Steve Saint, who spent his youth in the frontier regions of Ecuador. He identified many of the primary requirements for what he calls a "frontier vehicle": It must be rugged, and be easy to service in remote areas; use widely available automotive fuel; and be able to fly over terrain when the roads fail. Maverick fits the bill.
Maverick's patented "Dual Drive System," with "Integrated Controls" means it drives and flies using the same steering wheel and gas pedal. Powered by a 128-hp engine, the 900-pound Maverick can reach 80 mph on pavement. For pilots, the "Wing Deployment System" makes Maverick distinct. A carbon fiber mast telescopes up and by crossing the mast with a span bow at the leading edge, Maverick can maintain its parachute aloft after landing.
This permits the flying dune buggy to land in a tiny space with rough terrain that would not allow conventional lay out of a parachute canopy. The project aimed to fill a need for frontier transportation. The organization didn't set out to become a manufacturer, so I-tec is entertaining the possibility of licensing production to an outside entity in order to concentrate on its "engineering ministry" focused on health care for people beyond the reach of medical services. Priced at $84,000, a few early buyers can qualify for $79,000.
For more information: Itecusa.org/Maverick.html or ByDanJohnson.com