For the first time in the history of Edwards Air Force base, nearly 100 civilian general aviation aircraft, and 15 civilian-owned retired warbirds flew in, and landed on the Rosamond Dry Lakebed Oct. 1 to attend Flight Test Nation 2010 Lakebed Fly-In.
"The primary purpose of this fly-in is to educate the civilian flying public on R-2508 airspace and restricted area flight operations along with safe methods of navigating the airspace to avoid a mid-air collision," said Bill Koukourikos, Fly-In director and Air Force Flight Test Center flight safety officer. "We also wanted to display the Air Force Flight Test Center mission to foster closer ties with the civilian aviation community and tell the story of women aviators' past and present contributions here at Edwards."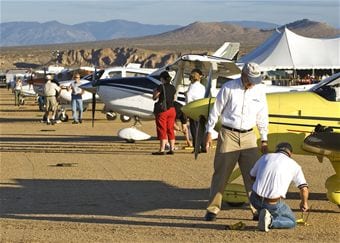 Maj. Gen. David J. Eichhorn, Air Force Flight Test Center commander, added: "This is a uniquely Edwards event. Only Edwards has lakebed runways. This all started with Flight Test Nation 2009. As we looked ahead, we wanted to make our next event as worthwhile as possible, hitting on all fronts. A lakebed fly-in focusing on airspace safety, coupled with a 'Women and Aviation' theme allowed us to do that."
With more than 800 fly-in attendees, organizers called the event a success. "About 325 attendees were fly-in guests and most airplanes had three or more people on board. There were a total of about 800 people at today's event," Koukourikos said. "As the lakebed is in restricted air space, it opened at 6:45 a.m. for general aviation arrivals. All aircraft were on the ground by 9:30 a.m. The Federal Aviation Administration air traffic controllers did a great job from their temporary control tower (called Muroc Tower) on the back of a flatbed truck in getting everyone down safely."
"One of the requirements for attendees to participate was that they have logged at least 200 flight hours," said Col. Glenn L. Graham, Air Force Flight Test Center Chief of Safety. "After that amount of flight time, most pilots are fairly experienced with their particular planes. Furthermore, they've had a chance to see different weather conditions and flying situations. What we didn't want to see were brand new pilots flying in a crowded, potentially demanding environment who could put themselves and others flying near them in a dangerous situation."
Southern California weather is generally fair this time of year. However, this is the Antelope Valley in the Mojave Desert and Oct. 1's weather was atypical. Arrival weather provided high overcast skies and calm winds, but departing weather was impending thunder storms and lightning.
"While the vast majority of fly-ins were from California, Arizona and Nevada, we also had participants from other parts of the country," Graham said.
James Simmons flew his Mooney M20 across the country from Connecticut just to attend the fly-in. Simmons traveled the farthest to be on hand. Two attendees flew in from Texas and one from Michigan while a family of five drove nearly 1,200 miles from Seattle just to attend Flight Test Nation's 2010 Lakebed Fly-in.
"When I first learned about this fly-in, that there were only 100 spots available, I made sure I got online and submitted my request," said Tony Frayklund, of Downey, Calif., who flew his Piper Cherokee 180 up from Fullerton, Calif. "Then I learned I was one of the 100 spots selected in the lottery. It was not until just about two days prior that I learned nearly 2,500 had replied to the fly-in invitation. There was no way I was going to miss out on this possibly once-in-a-lifetime experience of not only landing on a dry lakebed but also legally landing on a military installation."
The 15 warbirds included trainers; transports; bombers; pursuits; and utility, observation and special duty aircraft. Trainer aircraft on-hand were a Vultee BT-13; Ryan PT-22 Recruit; a Fairchild PT-19 Cornell; a Chinese-made Nan Chang CJ-6; a Beechcraft T-34 Mentor; a Scottish Aviation (BAe) Bulldog T1; a North American T-28 Trojan; and a Marchetti F-260. A Douglas DC-3, with 10 passengers embarked and a Lockheed L-18 Lodestar transporter, with seven passengers aboard were the two transports on-hand. A North American B-25 Mitchell, with eight passengers embarked, was the lone bomber present and a P-51 Mustang was the lone fighter aircraft at the fly-in. A Stinson L-5 Sentinel, an Aeronca L-16 Grasshopper and a Grumman HU-16 Albatross, with eight passengers embarked represented the utility, observation and special duty category.
The attendees were welcomed by General Eichhorn and shown a movie about the X-15 program, and how the Rosamond Lakebed was used as an emergency landing area by one of the X-15 flights. Koukourikos and James Sudduth, from the FAA, presented a comprehensive discussion of the airspace surrounding Edwards and the military operations that occur in the airspace. Koukourikos also discussed techniques a general aviation pilot can use to avoid a mid-air collision with fast jets.
Col. Dawn Dunlop, 412th Test Wing commander, presented a briefing on the role of women in the history of Edwards, and Maj. Jennifer Jeffords, 419th Flight Test Squadron B-2 test pilot, discussed several amazing stories about her life as a woman in aviation and a test pilot at Edwards. Interrupting the show was Pancho Barnes herself (actually, thespian Ms. Leslie Dinius) who showed up in a bright yellow Bucker Jungmann 103 bi-plane.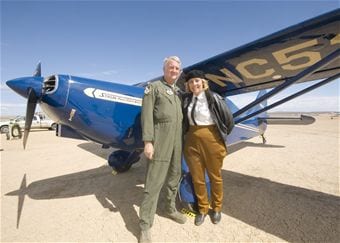 Civilian general aviation aircraft ranged from several decades-old single-engine Pipers, Cessnas, Beechcrafts and Stinsons to relatively new models of the same and new brand labels such as Cirrus and Pilatus. With the wide variety of aircraft, and the impending thunderstorms on the way, it was determined that an early departure was in the best interest of all attendees.
The last fly-in aircraft departed at about 2:30 p.m.
For more information: FlightTestNation.com