Operators of general aviation aircraft can now temporarily restore windshield rain repellency in the field with the Surface Seal Quick Application Hydrophobic Coating kit by PPG Aerospace.
The kit can be used by GA pilots who are not in a maintenance service location and do not have immediate access to Surface Seal coating application by a trained service professional. They can treat one glass windshield in a few minutes to restore or maintain water shedding for improved visibility without the need for wipers, company officials said.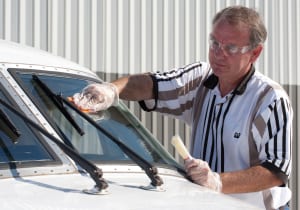 "We developed the fast coating process to meet the quick turnaround time needs of airlines, and are making it available for general aviation," said Arthur Scott, PPG Aerospace global director for general aviation transparencies. "More airframe manufacturers are specifying cockpit windows with Surface Seal coating by PPG. We want to support general aviation operators flying aircraft with windows having this proprietary coating by providing a convenient solution when they don't have the opportunity for a standard application."
The Surface Seal coating quick-application kit contains ampoules of the proprietary hydrophobic coating liquid, paper drying towels, applicator pads and gloves.
Coating application is simple, Scott said. "The glass is cleaned, the coating is wiped on, and you are ready to fly."
Surface Seal coating application with the quick kit affords the same rain-shedding benefits on glass as with factory or standard coating application, Scott said, but it requires reapplication sooner. Operators are advised to continue to use the original hydrophobic coating when possible and to order replacement transparencies with factory-applied Surface Seal coating for longer service life.
For more information: 256-851-7001 or PPG.com