Dan Johnson, president of the Light Aircraft Manufacturers Association, is an expert on Light Sport Aircraft.
Just when you thought the LSA industry was running out of models (109 presently show on our SLSA List), here comes one of the sharpest examples I've seen. NIU Group used the Midwest LSA Expo as the venue to debut an airplane I've seen in Europe, the Topaz, with more than 100 flying. Previously in the U.S., we have seen the Junior from the same company.
The top-of-the-line Topaz is a handsome machine, both outside and inside. With its automotive-styled, leather-trimmed interior, Topaz presents an attention-getter for any airport ramp and the Midwest LSA Expo was no exception. Attendees were drawn to the gorgeous new LSA represented by Krzysztof Siuba. He's aware his first name is difficult for Americans, so he just says, "Call me Kris." Whew! Good.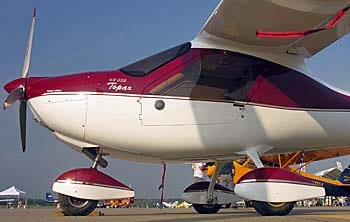 As with many European producers, Poland-based Ekolot has experience with sailplanes and the composite finish shows a glider producer's attention to an exceptionally smooth finish. Get factory tech specs (metric) but the U.S. translation is: Wing span 35.3 feet; wing area 109 square feet; gross weight 1,232 pounds (per Kris, factory specs show the Euro microlight figure of 992 pounds); empty weight 639 pounds, meaning Topaz has a useful load of 593 pounds and a payload with full fuel of 485 pounds; fuel 18 gallons; cruise 123 mph (107 knots); climb 1,575 fpm; stall 34 mph. Standard power is the 80-hp Rotax 912 with a three-blade composite prop.
For the largest Americans the interior may feel small, but most will enjoy the striking cabin. Many clever features are revealed and the Topaz is worth a closer look. It is sold standard with an whole-airframe emergency parachute.
A glider pilot, Kris is presently working through the ASTM process and preparing the plane and his enterprise for American sales.
For more information: ByDanJohnson.com, Ekolot.pl