Swift Enterprises Ltd. has entered into an agreement that will allow Purdue University researchers to test the company's unleaded, renewable general aviation fuel, which is being developed to replace 100LL.
Test operations with SwiftFuel recently were conducted at Purdue University utilizing six aviation piston engines provided by the National Test Facility for Fuels and Propulsion (NaTeF). These included a Lycoming TIO-540-J2BD, the highest octane-demand engine currently manufactured, and a Ranger L-440 built in 1933, which, at 65 octane, is one of the lowest octane-demand engines in use. The tests were performed by Evan Durako, a Swift Enterprises researcher, with Professor Mike Davis, a faculty researcher with NaTeF, providing independent observations.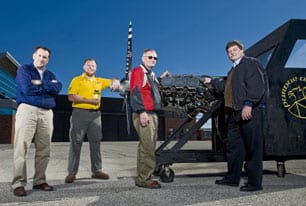 NaTeF is a research facility housed in the Department of Aviation Technology, headed by Professor David Stanley (principal investigator), Professor Denver Lopp (co-principal investigator), Professor Mark Thom (co-principal investigator) and aviation technology faculty members.
Stanley, an associate professor of aeronautical engineering technology, said the testing may prove beneficial for the general aviation sector.
"SwiftFuel appears promising as a replacement for 100 low-lead general aviation fuel, which is under pressure from several groups — including the U.S. Environmental Protection Agency — to be discontinued due to the fact that it contains a known carcinogen," he said. "These initial tests with Swift have been confined to piston engine installations that burn general aviation gasoline, but future testing and research may expand to the study of new turbine fuels to replace Jet-A, the fuel that powers all commercial airliners."
Mary-Louise Rusek, co-founder and president of Swift Enterprises, which is based at the Purdue Research Park, said NaTeF is another resource to accommodate Swift's needs to perform valid independent tests and collect data. "The performance runs overseen by the NaTeF team are producing data that support our findings about SwiftFuel on engine performance," she said.
Another research project being conducted under the agreement is the use of SwiftFuel in a Beechcraft Duchess light twin aircraft used as the Airborne Laboratory for Atmospheric Research (ALAR) by the Purdue Climate Change Research Center. ALAR currently is funded by NASA and the National Institute of Standards and Technology to develop the capability to measure fluxes of greenhouse gases like carbon dioxide. Testing included two days of paired flights under similar atmospheric conditions, which allowed for a good head-to-head comparison of SwiftFuel and 100LL under actual flight conditions.
Paul Shepson, principal investigator and head of Purdue's Department of Chemistry, said the tests compared the fuels' performance, acceleration and operational differences on the ground and in the air.
"SwiftFuel performed very well during the tests," he said. "I was unable to discern any significant difference in performance between SwiftFuel and 100LL during the in-flight tests."
The National Test Facility for Fuels and Propulsion is funded by a $2.7 million cooperative agreement with the U.S. Air Force and is housed in the Niswonger Aviation Technology Building at the Purdue Airport. Its mission is to improve the technology of fuels and propulsion. To serve that purpose, the engine testcell capabilities are being upgraded to include advanced data acquistion and exhaust emissions systems for both turbine and piston engine applications. A materials testing laboratory also is under development as part of NaTeF to enable testing and evaluation of the effects of fuels on gaskets, o-ring, seals and components in the fuel system.