Clear skies and light winds greeted air racers at the Tennessee Valley Air Race and speed dash on Saturday, Oct. 30th. The Tennessee River valley provided a beautiful backdrop for a field of 23 racers from around the country and Canada as they navigated the 123 nautical mile race course as part of the Sport Air Racing League, billed as "racing for the rest of us."
Tony Crawford and Ernie Sutter demonstrated a Reno-style flying start and the remaining sport class racers impressed the crowd with a fast flying start of their own. Crawford, in Chick's Delight, took the lead, but on leg three the spectators could see Sutter, in his fast Lancair Legacy, close behind obviously at a higher altitude making use of a tailwind. Crawford went on to edge Sutter for the Sport Class win at a speed of 308.16mph.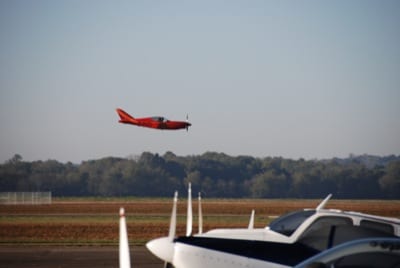 A pair of RV-8s captured first and second place in the RV-Blue Class. Jason Rovey flew in from Arizona to take the win and Allan Carroll brought his award-winning RV-8 in second place at a mere 1.65 mph under Rovey's speed of 222.72 mph. Veteran racer Bob Axsom placed third in his well known Blue Bird. Jim Achord and copilot/navigator JoAnne McGill ran unopposed in the RV- Red class.
Canadian racer Tom Martin blistered the course, setting a personal best speed of 270 mph to win the Sport FX class.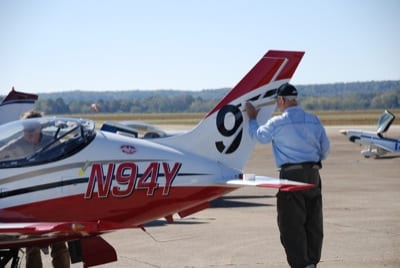 Dave Adams, flying his LongEZ, had stiff competition from Troy Petteway, who amazed everyone with his very fast KR-2, but Adams too first place with a speed of 209.93.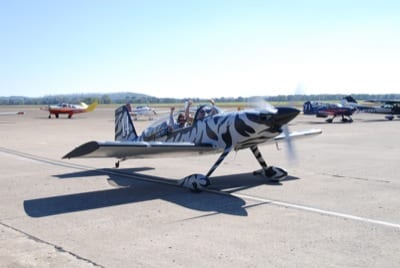 Three Bonanzas competed in the FAC1RG class. Chester Jurskis led the group, which all finished within 5 mph of each other. Marvin Guthrie and Arlin Staufer stayed right on Trixie Beech's tail waiting to capitalize on any mistakes by Jurskis.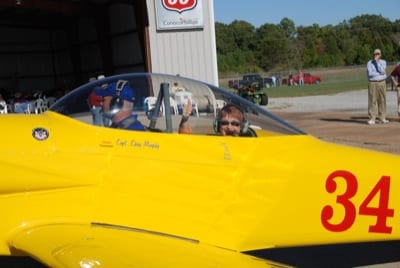 The next and final stop on the Sport Air Race circuit will be at Taylor, Texas, Nov. 20. For more information: SportAirRace.org