Drew Steketee was president of BE A PILOT, senior vp-communications for AOPA and executive director of the Partnership for Improved Air Travel. He also headed PR and media relations for Beech, GAMA and the Airport Operators Council International.
More than 10 years ago, I asked AOPA members to vote for their "Favorite Fly-Outs." These would be those special places where flying made the most sense, the fun but hard-to-reach destinations that justify learning to fly. The winner: Cedar Key, Florida.
There weren't enough responses to satisfy the Gallop organization, but this little island off the Northern Florida Gulf Coast was a runaway winner. I wanted to understand why. After many years, I recently found my way there.
Like many great flying destinations, getting there is not easy on the ground. Highway 19, the four-lane hugging Florida's Gulf Coast above Tampa, only gets you to a little cross road at Otter Creek that takes you back southwest some 24 miles to Cedar Key. Fly there instead!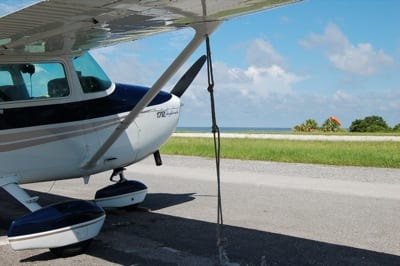 Driving onto the Key, there's a grand panorama of water all around. But getting to the airport requires winding through town and a mile or so more beyond. The road then becomes the airport's parallel taxiway. There's nobody there, no airport building, just the parking ramp and a sign saying the road beyond is open only to residents. A hundred feet ahead, another sign and flashing light reinforce that message. Nothing to see here.
There's apparently someone in town to call for "wheels." In Cedar Key proper, there's a main street with some redevelopment but most of the action is on a nearby one-way loop out by the water. There, a clump of restaurants and bars looks to be mighty lively in season. When's that? A bored waitress grumbled, "February and March, otherwise it's too cold in winter and too hot in summer."
Back at the airport, a brass plaque next to the ramp caught my eye. Oh, my. On it were the names of two couples from Georgia and a tribute by their friends back home. Above was a message in bold to all who land at Cedar Key: nighttime departures over the Gulf may result in loss of visual reference. Ah, a sad story here!
This stunning bit of aviation honesty was an off-putting and sad truth. Witness not only the misfortune of JFK, Jr., but of countless others. There were the four Congressional aides from D.C. who made the typical Friday night escape for Florida. Stopping to refuel at Charleston Exec, they departed seaward and were down within seconds.
Nighttime over-water VFR is relatively rare in the U.S., but departing the wrong way from a coastal airport can surprise you, fast. I was touched by the graciousness of these Georgia friends who honored their fliers' memory with a warning for those who come next.
It was a somber reflection at a "favorite fly-out" so beautiful. Anywhere there are airplanes and water, there can be magic…and a little danger.
Story and Photo © Drew Steketee 2010 All Rights Reserved