The Defense Advanced Research Projects Agency (DARPA) has launched a $65 million program to develop a four-person flyable and roadable vehicle. Terrafugia, Inc., developer of the Transition Roadable Aircraft, or "Flying Car," is the largest subcontractor to one of two winning teams, led by AAI Corp. and comprised of other Textron companies.
The vehicle, known as the Transformer, or TX, would function like a Humvee on the ground while providing helicopter-like mobility, according to Terrafugia officials. The result will be "unprecedented capability to avoid traditional and asymmetrical threats while avoiding road obstructions," according to a DARPA announcement. Intended missions include medical evacuation, avoidance of explosive devices, remote resupply, and Special Forces insertion. The vehicle will be able to travel 280 miles by land and air, using vertical takeoff and landing to increase access to difficult terrain, and automating flight controls to enable operation by non-pilots, according to company officials.
Phase I of the five year, three-phase program will focus on conceptual design of both a prototype and a production vehicle. Phases II and III will focus on the design and manufacture of the prototype, which could be ready as early as first quarter 2015.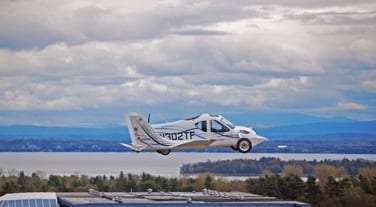 The work calls for Terrafugia's expertise in drive and flight integration, deployable flight surfaces, and automotive crash safety for an aircraft. Chief Executive Officer Carl Dietrich says, "This DARPA program effectively leverages Terrafugia's core competencies and enables us to grow from a pure GA company to an emerging aerospace company with both general aviation and defense development programs. Our strong team of Terrafugia engineers with recent experience designing and building a dual purpose vehicle will bring a unique perspective to the TX program that is highly valued by DARPA and the other contractors on our TX team."
The TX program represents an opportunity for Terrafugia to rededicate members of its engineering team as its primary business, the Transition Light Sport Aircraft (pictured) Program, moves forward on schedule from detailed design to fabrication, testing and production in the second half of 2011, he added.
For more information: Terrafugia.com