Deb McFarland is the proud owner of Lester, a 1948 Luscombe 8E, and part of the "Front Porch Gang" at Pickens County Airport in Georgia.
Last post I regaled the world with the great flying weather during the first part of October in the southeast. Two fly-ins, two weekends of travel and two Luscombes keeping the airways hot satisfied my need to fly.
I was quite happy to finish the rest of the month with a few short leaf-peeking flights until the Old Man pointed to a letter lying on the kitchen counter. It was the announcement of my 30th class reunion for the upcoming Saturday evening.
The Old Man felt strongly that I should go. My heart wanted to go, but the practical Chief Financial Officer of the McFarland Household and Short Final Aviation believed another trip, which included another hotel stay, would strain the budget beyond repair. It didn't help that family and school friends were calling and texting that it was my duty to attend.
The cons of attending were strong. First, our beloved Honda was on its last legs. It made a rather alarming whining noise that we feared was the transmission's final aria, so driving to the reunion was out. I hate the drive through Atlanta anyway. Next, our child had a science project that was due the following Monday. Our full weekends were not exactly helping to get this assignment done.
Yada. Yada. Yada. I shouldn't go, but I wanted to go, and if I went, my family was going, too. The trip via Luscombe is only 2 hours tac one way, however, Friday evening found me researching fuel stops. I can fly roundtrip without a top-off since I have two wing tanks. With his fuselage tank, Henry can't.
Historically, my hometown of Cochran, Georgia, which is 40 miles south of Macon, has a lot of aviation traffic, but most of it is agricultural based, with the owners operating out of private strips. In years past, we stopped elsewhere for fuel, as the local airport didn't have that service. They didn't have tie-downs either, nor was there a courtesy car. That really wasn't much of an issue since most of the property owners around the airport were distant relatives who wouldn't hesitate to give us a lift into town.
However, my search on AirNav revealed some changes since my last visit by air to 48A. The Cochran Municipal Airport sported a new 4,400-foot runway, and Cochran Air Service offered automated fuel at a reasonable price. How wonderful! It would make the trip simpler if we could get fuel at our destination!
Saturday morning continued the October fair weather streak with clear skies and forecast light winds on the ground and in the air. A call to Cochran Air Service confirmed the automated fuel, tie-downs and — have mercy — a courtesy car. I told the proprietor to expect two Luscombes shortly after lunch who would have need of the car if possible.
Typically, a flight to the south for those of us who live and operate north of Atlanta means slipping under the Mode C and Class B airspace of Hartsfield-Jackson Airport. Henry's 8A is exempt from the transponder requirement, but as a flight of two, I squawk for both of us. Since our path was a little east of due south, we avoided the busy airspace between Peachtree-Dekalb and Lawrenceville. In fact, with a little 5 mile modification to our flight path, we avoided the veil altogether, which allowed for a relaxed trip.
The landscape of northern Georgia is varied, and a pilot can travel in any direction and find something interesting to see. While traveling on the southeastern side of Atlanta, the landscape changed from a somewhat suburban setting to a plain of trees as far as the eye could see. On my sectional there were few distinguishing landmarks, and in the extraordinarily smooth air, the airplane hardly felt like it was moving at all.
At Interstate 20, which runs east and west across the state, we could see Lake Oconee to the east and the stacks at Lake Sinclair to the south. The power plant at Lake Juliet was southwest and in between were miles and miles of tall Georgia pines. The engine droned, and if Keely weren't already sleeping beside me, I would have handed over the stick and taken a little nap myself.
Finally, at the crossing of Interstate 16, a long and sometimes lonely stretch of interstate between Macon and Savannah, there is change. Stretching along the state's eastern fall line, this highway is where the trees of the piedmont meet the farmlands of the coastal plain. These features bisect the county where I was born and raised. The farmland, with its varying colors, was a welcomed diversion.
Our landing at 48A was uneventful, and as there was no one around, we opted to fuel and tie-down while we waited for the attendant to return from his errand. Long before I ever considered learning how to fly, I had heard of Mr. Red Curtis. My mama often spoke of the day he took her and my daddy for a ride in an old biplane. I knew as a resident of the county that Mr. Red operated the airport and was something of a local legend. Oddly, after I married and later after I learned to fly, we often flew home and always missed meeting him.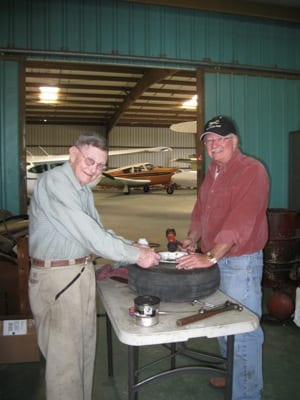 It was ironic that he would recognize Lester and know me has Deborah McFarland, the writer for General Aviation News, not as a local girl. I was happy to inform him that the airport sat in the middle of my relatives, and it was an honor to finally meet him. At 91, he still works at the airport but has a little help from his son, Alan, a retired airline pilot.
Landing on a new home runway, having automated fuel, meeting Mr. Red and then learning that the courtesy car was not a worn out Crown Victoria from the local police department really made this trip a most pleasant one. I think every airport should have a late model GMC Yukon Denali for use by transient pilots.
The class reunion was held on an old peach farm, a fitting location for a farming community whose class of 1980 was only 120 strong. It was an agreeable location for us as Luscombe luggage consists of backpacks, so jeans and sneakers were as fancy as we could get. It had been 28 years since I married and moved away. Some folks had to joggle my memory for a name to go with the face, but my dearest friends and I picked up just where our last conversation ended. Lynn, Nina, Alan, Belinda and Keith didn't think it strange that I flew down in a ratty old airplane. In fact, the next morning found some of them at the airport eager for a ride.
Lester was happy to oblige.
Deb can be reached at ShortFinal@generalaviationnews.com.