When Laura Rusnok was 14 years old, her father took her to the American Airlines C.R. Smith Museum. Rusnok saw the museum's DC-3 and surveyed the multitude of controls for the first time. After seeing a film showing the spirit and courage of the early aviators, she was inspired to fly.
A few years later, she received a demo flight for her 16th birthday, and she says that is when she knew she wanted to be a pilot. However, Rusnok soon discovered that there weren't any four-year public universities offering aviation programs in Texas.
"I decided that I would go to Oklahoma State University, but a few weeks before school started I went to visit and I knew it wasn't the place for me. It just wasn't the right fit, plus I was paying for school myself and the out-of-state tuition was pretty steep," said Rusnok.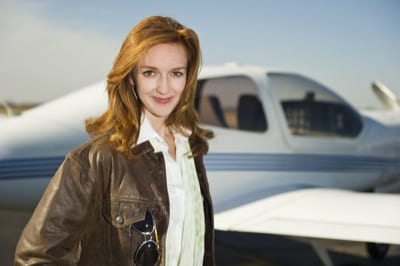 Instead, the graduate of Covenant Christian Academy in Colleyville decided to stay in Texas and go to Tarrant County College while she researched her options. Fate soon brought Rusnok to the University of North Texas in Denton. She entered as a business major, unaware that the UNT College of Business was developing a program in aviation logistics.
Soon after arriving at UNT, Rusnok met Dr. Jeff Sager who suggested that she speak with Dr. Steve Swartz and Dr. Terry Pohlen, two members of the logistics faculty that were working on the aviation program.
"I was worried that I would have to retake courses, but eventually my curiosity drove me to meet with Dr. Swartz and learn about the program," said Rusnok.
Rusnok soon became a pivotal member of the team working to bring an aviation logistics degree program to UNT, helping conduct research and designing experimental courses. She also founded the Student Aviation Association (SAA), an organization open to all UNT students interested in aviation.
UNT got the green light to launch the first four-year aviation logistics program at a public Texas university in the fall of 2009, and the program officially started this August.
Rusnok was able to complete most of her major courses while they were still listed as experimental courses. She's finishing up her final courses this semester and will become the first student to receive a bachelor's of science degree in aviation logistics from UNT on Dec. 18.
In addition to working to pay her way through college, Rusnok also participated in flight training, earning her private pilot's license. She hopes to find a job in the aviation industry while she completes her instrument rating. She eventually wants to be a corporate pilot.
"Before the UNT program began, Texas students had to go north of the border to get a four-year aviation degree," Rusnok said. "I believe that it was an act of God that I came to UNT as this program was being developed. It was very rewarding to help lay the groundwork for the program, and I am excited to be the first graduate of the program."
For more information: UNT.edu