Dan Johnson, president of the Light Aircraft Manufacturers Association, is an expert on Light Sport Aircraft.
When my former home state of Minnesota grappled with enough snowfall to collapse the Metrodome's inflated roof, I was still hanging out in the Bahamas (yeah, I know, tough job…). After the first International Sport Pilot Fly-In concluded, all but a couple Breezers flew home. Our group of four, lead by U.S. Breezer importer Mike Zidziunas, took a pair of Breezer LSAs south to an island called Staniel Cay (pronounced "key" unless you want to be easily identified as a tourist).
The experience was spectacular in many ways. The trusty Rotax 912s ran smoothly and confidently for, as one of the fly-in pilots put it, "Your engine doesn't know it's over water."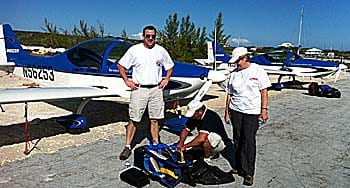 On the trip home, we wended our way through some visually stimulating inter-island flying at low altitude. Mike installed a video camera on the tail of one Breezer and, flying in close formation, we captured the twin LSAs in some footage for the Bahamas tourism office.
My overall experience suggests that LSA can easily negotiate and navigate flights from mainland USA and our modest fuel usage was remarkable news to others we've seen here in the Exumas (a southern chain of islands in the Bahamas). We burned just six gallons over the Atlantic en route to Freeport from Fort Lauderdale, another six flying from Freeport to Nassau, and about four more to reach Staniel Cay. Averaging better than 20 mpg at 120 mph makes for quite economical travel. Breezers carry 21 gallons of fuel and, with good planning, this proves to be plenty to reach these tropical destinations.
Large FBOs catering to the jet crowd — such as Odyssey in Nassau — offered polite and excellent service even though we bought a mere $30 worth of fuel.
I admit flying over large stretches of water sharpens your focus on fuel management and demands good maintenance but I've also flown aircraft over large forests in the U.S. and frankly, I think I'd rather take my chances with a water landing.
For more on Sport Pilot and LSAs: ByDanJohnson.com