Tuskegee Airman and author Lt. Col. Alexander Jefferson, 90, a retired U.S. Air Force officer who currently resides in Southfield, Mich., will be signing copies of his book "Red Tail Captured, Red Tail Free: The Memoirs of a Tuskegee Airman and POW," on Sunday, Feb. 20, from to 2 p.m. at Lyon Air Museum, located on the west side of John Wayne Airport in Southern California.
The Tuskegee Airmen were the first black military aviators to serve in the United States armed forces. Jefferson's book is a personal memoir about black soldiers who served their country during and after World War II.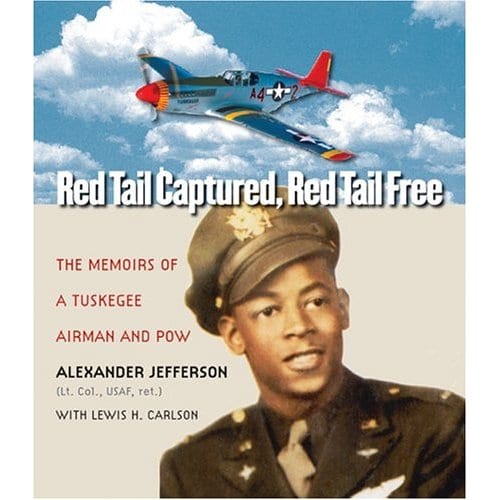 "Lt. Col. Alexander Jefferson is an American treasure, and we're proud to have him join us to share his experiences," said Mark Foster, president of Lyon Air Museum, a Southern California showcase for vintage military aircraft and automobiles. "His saga is nothing less than the story of our nation in the 20th century."
Born Nov. 15, 1921, in Detroit, Jefferson was sworn into the U.S. Army Reserves on Sept. 23, 1942, volunteering but not accepted for flight training. Called up for flight training in April 1943, Jefferson received orders to report to Tuskegee Army Air Field in Tuskegee, Ala., to begin flight training.
The Tuskegee Airmen pilots of the 332nd Fighter Group painted the tails of their P-47s red, which led to the nickname "Red Tails." Receiving his pilot's wings and officer's commission at Tuskegee, Jefferson was assigned to the 332rd Red Tail Fighter group at the Ramitelli Airfield near Foggia, Italy, flying the P51 Mustang. In a fighter escort wing protecting bombing missions of the U.S. 15th Air Force, his job was to attack key ground targets and guard the bombing mission against enemy Nazi Luftwaffe fighters.
Jefferson was shot down Aug. 12, 1944, while attacking a radar installation during his 18th mission over Toulon in southern France. Parachuting to safety and landing in a forest, he was immediately captured by German ground troops. He was sent to a German prisoner of war camp in Poland called Stalag Luft III, a specialist Luftwaffe-run camp for captured Allied Air Force personnel. Freed by Gen. George Patton's U.S. Third Army, Jefferson returned to the U.S. on board the Cunard liner RMS Queen Mary, arriving in New York City in mid-1945.
Following the war, Jefferson served as an instrument instructor at the Tuskegee Army airfield until its closure in 1946. He remained in the U.S. Air Force reserves until his retirement in 1969.
As a civilian, Jefferson worked for more than 30 years in the field of education, retiring in 1979.
In 1995, Jefferson was enshrined in the Michigan Aviation Hall of Fame. In 2004, Jefferson was awarded with a Purple Heart for being wounded while being shot down over Nazi occupied France. On March 29, 2007, Jefferson attended a ceremony in the U.S. Capitol rotunda, where he and the other surviving veterans of the Tuskegee Airmen and the widows of airmen no longer with us were awarded the Congressional Gold Medal in recognition of their service.
The 30,000-square-foot Lyon Air Museum opened in December 2009. The facility represents the fulfillment of a dream of Maj. Gen. William Lyon, USAF (Ret), who held the position of Chief of the U.S. Air Force Reserve from 1975 to 1979. Currently, Gen. Lyon is Chairman of the Board and CEO of William Lyon Homes, Inc., Newport Beach, Calif. His passion for aviation history and youth education is the driving force behind Lyon Air Museum. In establishing the museum, Gen. Lyon sought to create a world-class facility that would be available to the local community and would offer educational displays to inspire young people. The museum has on exhibit some of the world's rarest operational aircraft and vehicles.
For more information: LyonAirMuseum.org