Adventure Pilot today released its Version 5 Software Update, which will now provide iFly 700 users with new features like Autopilot support ("NMEA output"), Airspace Alerts, and an improved Airport Information Page.
As with all iFly 700 updates, the Version 5 Software Update is available for existing users to download via an "Update Package" from the iFly 700 Update page. The update is included with all new purchases, as well as in the Standard $69 Annual Data Update Subscription for all current owners, according to company officials.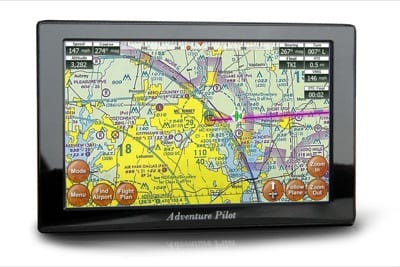 "Based on the current feedback from our numerous beta testers of the Version 5 Software Update, we truly believe pilots are going to be very impressed with our latest features and enhancements," states Walter Boyd, president of Adventure Pilot.
The iFly 700 Version 5 Software Update provides new features such as Autopilot compatibility, Runway Extensions, VST (Vertical Speed to Target) Instrument, Day/Night Mode, Auto Airspace Alerts, Auto Track Mode and much more. Users also can now drive an Autopilot with the iFly 700 NMEA data output, while safety and pilot confidence is enhanced with Auto Airspace Alerts, company officials said. This new feature allows pilots to select type, distance and altitude buffer notification parameters. Also, pilots can choose to be notified with a pop-up window or more discrete Alert Button. After exploring the sectional or charts, the new Auto-Track Mode automatically resumes tracking current position within a user-defined period of time.
The new Runway Extension feature displays a guidance feather extended from the selected runway. The VST Instrument displays the target descent rate to reach pattern altitude at your desired distance from the airport. The Day/Night mode provides visual comfort as it darkens all chart modes and inverts colors on various information pages for night operations.
"These new features are just a few examples of what pilots can expect with the Version 5 Software Update. For those considering the iFly 700, this is our testament to our constant innovation and advancement of the iFly 700," states Boyd.
Upgrades include an improved Airport Information Page that features adjustable font size, runway thumbnails, and a button for nearby airports. A list of nearest airports can easily be displayed with distance, direction, estimated time en route and other details straight from any of the moving map modes with the touch of a button. Additional airport information provided includes fuel availability, runway width, city, and lighting schedule Faster chart transitions and chart expiration warnings are also part of this update, allowing sectional charts to be viewed beyond expiration dates.
For more information: www.iFlyGPS.com