By J. DOUGLAS HINTON, for General Aviation News
Reporters are lucky: If we're at an air show where the Blue Angels are performing and have a taste for a roller coaster ride that exceeds anything Disney has to offer, we can sign up for a free flight in the Marine Corps' C-130 support transport, lovingly named "Fat Albert."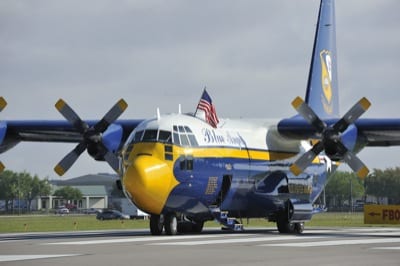 After signing several forms that say you would hold the Navy "harmless" should you crash and burn (they never have) and being queried by a doctor as to whether you are pregnant, have a fear of flying, have a heart ailment and a dozen other health-related questions, you are finally transported to the aircraft for a pre-flight briefing. When the pilots tell you what's going to happen, there is still time to back out, but of course foolish pride keeps you rooted to the spot.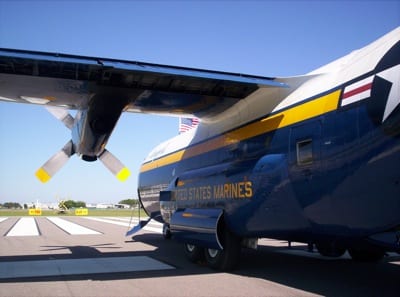 The Blue Angels make approximately 35 appearances per season. Fat Albert precedes the Angels by an hour at each location, carrying approximately 40 avionics, airframe, engine and maintenance technicians in case any last minute squawks need fixing prior to the air show performance.
Ready for the ride?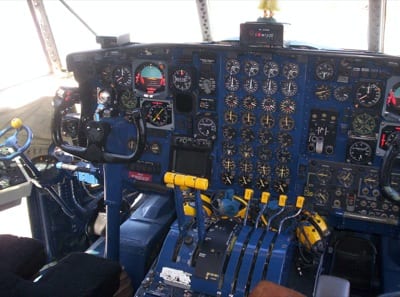 After strapping into fuselage bucket seats, each of you is issued an airsickness bag which ominously portends what's to come. Lined up on the runway, Fat Albert goes to full power and releases the brakes. The acceleration is breathtaking. Gear up and the plane goes into a 45° climb, pulling 2.5 Gs, crushing you into your seat. Then, as airspeed bleeds off, the pilot pushes the nose down into a negative G dive so you can experience the astronaut condition of weightlessness.
Cameras float up in the air and so would you without a seat belt. Then a low altitude pullout followed by a terrifying steep bank to the left, then to he right just above the treetops, clicking along at 320 knots. No demonstration would be complete without a high speed crowd-pleasing pass at about 60 feet, followed by a gut-wrenching pull-up and turn to prepare for the landing. Just short of the stall, flaps down, nose down and another zero-G push-over. Touching down on the runway, full reverse on the engines, hard braking and you come to a stop in less than 1,000 feet. I was proud to return my barf bag unused as my heartbeat returned to normal.
Try it, you'll like it. Maybe….