The new issue of FAA Safety Briefing explores how developments in the National Airspace System affect and benefit general aviation pilots. Articles highlight some of the changes and challenges of flying in today's NAS, and provide tips pilots can use to meet those challenges safely and efficiently.
Feature articles highlight changes to the NOTAM system, how controllers are working with pilots to improve communication, and what goes into the establishment of a Temporary Flight Restriction (TFR).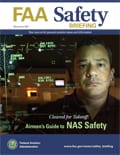 The issue also explores the transformation of the NAS that the FAA is undertaking: the Next Generation Air Transportation System, or NextGen. Over time, NextGen will fundamentally change how the agency manages air traffic. To prepare for NextGen, it is important for GA pilots to keep abreast of what those changes will mean.
To learn more, download the May/June issue of FAA Safety Briefing at FAA.gov
FAA Safety Briefing is the safety policy voice for the non-commercial general aviation community. The magazine's objective is to improve safety by making the community aware of FAA resources, helping readers understand safety and regulatory issues, and encouraging continued training.