Aviation legend Mary Feik addressed — and participated in — the South Dakota Wing of the Civil Air Patrol's annual wing conference and awards dinner April 30 at Cedar Shore Resort.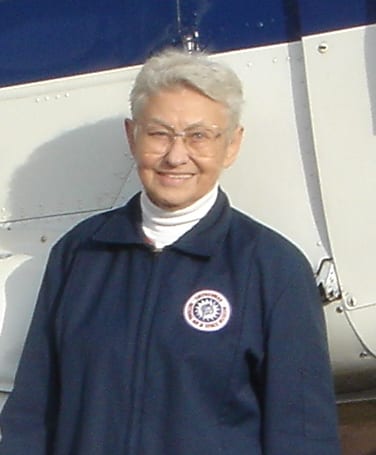 Feik, a longtime CAP member, was the first woman to break the all male barrier of aircraft engineers and test pilots in World War II. After graduating early from both high school and college, she went to work as a civilian in the Army Air Corps, training male pilots and mechanics how to fly and fix nearly every aircraft in the American arsenal. She has over 6,000 hours of flight time in bombers, fighters, and cargo transports, including nearly 550 hours alone as a P-51 pilot. After her test flight and engineering career, she worked at the Smithsonian Institute's Air and Space Museum restoration center, restoring countless historic aircraft that are now on display at the museum.
One of CAP's cadet awards is named after Feik in honor of her many accomplishments in and out of aviation. Feik has a great affinity for cadets and actively participated in the cadet activities and programming at the conference. She also presented a PowerPoint presentation of photos and historic news clippings of her accomplishments, the planes she flew and helped design, and the many aviation giants she met.
Senior members also had meetings on new live streaming video technology for aerial missions, finance, recruiting and retention, professional development, and aircraft maintenance.
The culmination of the conference was Saturday evening's award banquet. Sioux Falls Composite Squadron commander Capt. Jerry Foy of Sioux Falls was named Outstanding Senior Member of the Year. Cadet Capt. William Small of the Lookout Mountain Composite Squadron in Spearfish was named Outstanding Cadet of the Year. The Big Sioux River Composite Squadron in Brookings, commanded by Capt. Nick Gengler, was named the Squadron of Merit.
Other award winners included:
Meritorious Service: Capt John Seten, director of operations for the SDWG from Sioux Falls and Capt. Todd Epp, public affairs officer for the SDWG from Harrisburg.
Commander's Commendation: Col. Mary Donley, in school and aerospace education member coordinator for the SDWG from Sioux Falls; Lt. Col. Linda Buechler, director of cadet programs for the SDWG from Sioux Falls; and Lt. Col. Leo Becht, director aircraft maintenance for the SDWG from Spearfish.
Achievement Award: Cadet CMSgt Eric Menholt, Sioux Falls Composite Squadron, Sioux Falls; Cadet 2nd Lt. Benjamin Jared, Lewis and Clark Composite Squadron, Mission Hill; and Cadet SSgt Avelyn Bay Bridge, Sioux Falls Composite Squadron, Sioux Falls.
Supply Officer of the Year: Cadet Capt. David Small, Jr., Lookout Mountain Composite Squadron, Spearfish.
Drug Demand Reduction Officer of the Year: Lt. Col. Leo Becht.
Certificate of Accomplishment: Members of the Pierre Composite Squadron Cadet Color Guard Team: Cadet CMSgt Christopher Childers, Cadet Amn Hanna Corning; Cadet Amn Ricki Draper; Cadet SrA Luke Schochenmaier; and Cadet TSgt Ryon Skaggs.
For more information: www.gocivilairpatrol.com, www.sdcap.us