In partnership with Stallion 51 Corporation, Angel Flight Southeast is offering one lucky person the experience of a lifetime — a one-hour orientation flight in the World War II fighter, the P-51 Mustang "Crazy Horse." For $20, entrants can put their name in the hat to win a half-day program at Stallion 51's headquarters in Kissimmee, Fla.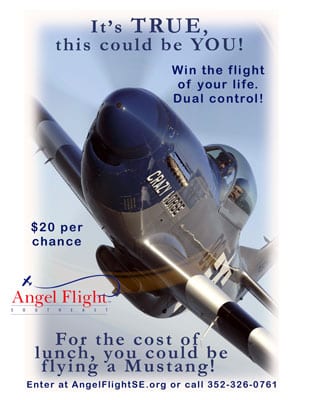 The winner of the fund raising raffle will participate in pre- and post-flight briefings, along with experiencing firsthand being in the cockpit and at the dual controls of a Mustang.  Travel assistance is available for any raffle winner not living within driving distance of the Stallion 51's facility in Kissimmee.
With support from volunteer pilots, Angel Flight Southeast has coordinated free general aviation flights for children, families and veterans in need of treatment at distant medical facilities for over 27 years. Funds raised will support their mission and assist in coordinating over 3,000 free flights each year, according to officials.
For more information: AngelFlightSE.org. Certain restrictions and limitations apply. Full raffle rules and details are available on the website.