Even though AirVenture is over, you can keep up with what's going on at Wittman Regional Airport (OSH) through a new blog and an Internet-based radio station.
"Those of us who work on the airport realize there are dozens of opportunities each week for Wittman Regional Airport to affect the economic activity of the community … and not only during the 10 days or so every year when AirVenture hits town," said Peter Moll, airport director.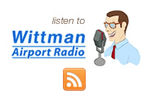 The blog, found on the front page of the Wittman Airport website, offers an RSS feed option that allows subscribers to receive a quick e-mail notice whenever a new story posts.
A new Twitter feed — @wittmanairport — in Twitter speak, offers short notes about happenings on the airport, as well as links to resources people interested in aviation and airport operations will find useful, officials noted.
And Wittman Airport Radio is a new creation that offers anyone, anywhere a chance to listen in from their iPod or Smart phone to airport-produced radio shows about airport topics. The first one, for instance, explains the intricacies of understanding the economic impact the airport delivers to the region. All shows are syndicated through iTunes.
"These new tools also offer us a great channel to entice new businesses to consider Wittman Regional Airport — think, more jobs," Moll added. "All the content we now produce is broadcast to people all over the world, anywhere there's Internet access. Marketing our airport doesn't get much more cost efficient than that.
But wait … you're probably wondering about a Facebook page right? "Let's just say, it's coming … soon," officials said.