At 75 feet long, 30 feet high, and 110 feet wide from wingtip-to-wingtip, the Consolidated PB4Y-2 "Privateer" based at the Casa Grande Municipal Airport (CGZ) in Arizona is tough to miss. For locals and pilots, it's a familiar sight — but also unfamiliar, even for the most seasoned aviation enthusiast. That's because it's the only Privateer still flying.
Although 739 were originally built as patrol bombers for the U.S. Navy and U.S. Marines between 1935 and 1962, most were scrapped for metal following World War II and the Korean War. According to Bruce Brockhagen, spokesperson and maintenance volunteer, nine were sent to the U.S. Coast Guard in 1945 (including this one). Others went on to operate as fire bombers.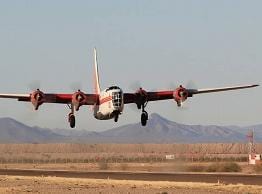 Having spent 61 years as a Coast Guard plane, aerial tanker and fire bomber, the aircraft was auctioned off in 2006 to a group of private individuals, including Woody Grantham, co-founder of Chandler, Ariz.-based Arizona Air Response. Their goal was to preserve the history of this venerable warbird and stop it from being turned into scrap metal. Several volunteers, including Brockhagen, lend their time and expertise to "bring the aircraft back and keep it flying."
Last October, Grantham flew the Privateer to Casa Grande, Ariz., where it resides today. It is the only airworthy example of this Navy variant of the B-24 heavy bomber.
Stenciled on the fuselage is Grantham's name, along with that of co-pilot Bob West, both certified PB4Y pilots from the fire-fighting arena. Crew Chief Robert Kropp, who has a long history in warbird maintenance, rounds out the flight crew.
Plenty of World War II aviation veterans and firefighting pilots can identify the aircraft on sight. "I like hearing them describe their experiences flying this type of aircraft in WWII, and the stories of all who had a part of making history with the Privateer in service to our nation, whether in defense of our country at war or in fighting fires," Brockhagen says.
The Privateer will take to the skies Oct. 20-22, at the 39th-annual Copperstate Fly-In & Aviation Expo at the Casa Grande Municipal Airport.
For more information: Copperstate.org