Just a few months ago, John "Lites" Leenhouts was thinking about retirement. "My life was set," the 27-year Navy veteran said. "I was going to retire after 10 years at Northrup-Grumman and we knew exactly what we were going to do."
He and his wife Nancy had built a good life in Jacksonville, Florida, during the decade at Northrup-Grumman. They had two homes, one on an airpark designated an "aviation haven" filled to the rafters with thousands upon thousands of aviation memorabilia Lites has been collecting since his teens. He'd fly his Stearman or Waco and dream of building a Van's RV so he could get into mock dog-fights with his airpark neighbors.
But that all changed when he opened an email from a friend telling him about an opening at Sun 'n Fun for the top spot, created when long-time president John Burton became president of the Florida Air Museum, which is on the Sun 'n Fun campus on Lakeland-Linder Regional Airport (LAL) in Florida.
"My friend said 'this has your name all over it,'" Lites recalled.
He agreed and immediately fired off an email expressing interest in the job, along with his resume. Lites was one of 180 people to apply for the position.
He survived several rounds of cuts, but thought he had blown it when they asked him to interview and he said he couldn't make it on the designated day because he was in Los Angeles on business. To his surprise, they pushed the interview up two days.
Lites, who has volunteered at Sun 'n Fun for years, camping under the wing with Nancy, remembers driving from Jacksonville to Lakeland for the interview. "I told my wife 'don't get too excited, I so don't have this,'" he remembers, adding with a laugh, "I thought maybe we'd get two VIP tickets for the next show out of this."
He admits he "just about passed out" when they called to offer him the job. He becomes only the third person to hold this position, following Burton's 12-year tenure, who was preceded by one of Sun 'n Fun's founders, Billy Henderson.
"Sun 'n Fun represents what my life is all about," Lites said. "This is a calling — preaching at the Church of the High Speed Pass.
"I became enamored by what Sun 'n Fun means to the aviation world and the avid enthusiasts of all aviation," he continued. "We have everything from homebuilts to classics to warbirds, but what I think makes Sun 'n Fun special is we have all that in a relaxed, enjoyable environment. The fun factor here is the highest of any air show."
Taking the top spot at the nation's second largest air show, topped only by AirVenture in Oshkosh, is a long way from where Lites began.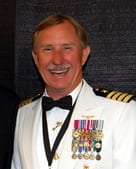 Born in Bryan, Texas, he admits he was a kid on his way to trouble when he decided to hitchhike to an air show at Carswell Air Force Base just outside Fort Worth. As he walked around the show, he was surprised that the pilots would actually take the time to talk to a kid. "Then a lightbulb came on and I realized there is a future in aviation," he said.
After graduating in 1973 from Oklahoma State University with an Aerospace Engineering degree, he joined the Navy's Aviation Reserve Officer Candidate Program. He did his initial training at NAS Kingsville in Texas. During his first tour he completed three deployments aboard aircraft carriers, flying the A-7 Corsair. One of his duties was Landing Signal Officer, which gave him the perk of training in another aircraft. He chose the F-14 Tomcat, and recalls writing out a syllabus for his training on a Sunday afternoon. "One week later I was qualified to fly the Tomcat," he said.
For the last 10 years of his 27-year career in the Navy he flew the F/A-18. But he also took every chance he could to fly all the other planes in the Navy fleet. "I would go to different squadrons and ask if I could fly with them," he said.
The list of what he's flown while logging more than 10,000 hours is extensive: A-7, F-14, F/A-18A-F, A-6, E-2, C-1, C-2, S-3, P-3, SH-3, SH-60, T-33, T-28, F-16, and F-5, Cessna 150, 152, 170, 172, 182, Piper 140, 160, 180, Beech T-34 B&C, B-17, B-24, B-25, B-26, B-29, PT-13, PT-17, BT-13, AT-6, SNJ, P-51, AD-5 and TBM.
During Operation Desert Storm, he accumulated more than 100 combat hours in 24 missions, leading strikes into Iraq and Kuwait. He still holds the distinction of performing more landings (or "traps" in naval nomenclature) on an aircraft carrier than any other naval aviator in U.S. history with 1,645 arrested landings.
During his Navy years, Lites indulged his love for all things aviation by volunteering at Sun 'n Fun.
"He has been a regular and active participant at virtually every Sun 'n Fun Fly-In over the past 30 years," said Bill Eickhoff, Sun 'n Fun chairman. "The only events John has missed are when he was away from the United States on active duty with the Navy."
That volunteer background has helped in the transition, but Lites concedes "to say it's been hectic is an understatement. It's been a whirlwind. I missed last year's tornado, but I feel like I've been in one for the past three months with things coming at me fast and furious."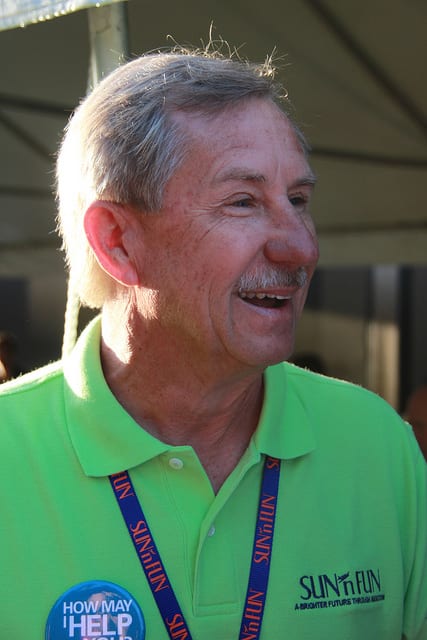 Of course one of the things he's had to deal with as he learns his new job is handling the fall-out from last year's tornado, which struck the Sun 'n Fun campus Thursday, March 31, damaging airplanes, tents and buildings, but luckily causing only minor injuries.
Sun 'n Fun officials have received some flack from people who say they weren't warned about the tornado. Lites is working with other Sun 'n Fun officials to create a process on how to determine the severity of weather and how to get the word out to everybody — from exhibitors to campers — that danger is imminent. They're considering loudspeakers in the exhibit hangars, which would only be used in emergencies. Of course, that won't reach the campers or the folks out in Paradise City. "We had considered a siren, but the general public may not know what that means," he said. "The last thing we want to do is create panic. What we want to do is disseminate controlled knowledge of impending danger. We're anxious to ensure that we are never caught by surprise again."
With that said, Lites echoes many of the comments from last year about how quickly Sun 'n Fun was able to clean up after the afternoon tornado so the show could reopen for the big crowds expected on Friday, Saturday and Sunday.
"My hat is off to every one of the volunteers, staff, city and county workers who cleaned up the mess created by Mother Nature so the show could go on," he said. "Without those herculean efforts, Sun 'n Fun would have been done — it would have been financially devastated."
Lites points out that Sun 'n Fun is a 501(c)3 non-profit organization, which means "there are no giant reserves."
In fact, once all the bills are paid, whatever is left goes into aviation education, he said, noting the organization has given close to $1 million to the Central Florida Aviation Academy, which is also on the Sun 'n Fun campus. "That's for kids to go to school and find a life in aviation — that's what it's all about," he said.
Reaching that goal of supporting aviation education means reaching another goal: "To produce the very best aviation experience on the planet," he said.
He's quick to point out that Sun 'n Fun is not trying to outgrow Oshkosh. "We want Sun 'n Fun to be a cornerstone of the aviation experience," he said, adding the fly-in is proud of its reputation as the event that kicks off the flying year. That's why a few years ago, the slogan "Spring Break for Pilots" was coined. "We want people to recognize Sun 'n Fun as a world class, premiere aviation experience that they can't miss."
To achieve these goals, Lites unveiled three "tenets" to help produced the "very best aviation experience on the planet."
"Can we make it easier for them," he said. "Can we make it more enjoyable? And can we make it more rewarding?"
Tackling the first tenet, Lites told a group of volunteers at a meeting in November that everyone involved in Sun 'n Fun, from the staff to the volunteers, will wear buttons with the simple phrase "May I help you?" This makes everyone a "Sun 'n Fun ambassador," he said.
Expect to see people at the front gates helping direct the crowds so getting into the show is easier. Parking will be easier this year as a paving project is almost done.
Next focus: Improving the quality of the experience. "We want to be sure there is something for everyone, from the youngest kid to the oldest person," Lites said.
Last, but not least: The experience has to be rewarding. "When each guest leaves, I want them to think 'I got more than a paid for,'" he said.
"We want to make this a Mecca for people who love aviation," he said. "We have to make it so at the end of the event, people start planning for next year's event."
While he's busy learning his new job and building a new house in Lakeland, Lites still flies his 1941 Stearman N2-S and 1930 Waco RNF, often up to Jacksonville to visit his daughter and grandbabies, and check on his home at Haller Airpark (7FL4), which has been turned into a museum, housing his collection of aviation memorabilia. Called "Trader John's Fly Boy Bar," the museum "gets a lot of attention," Lites admits.
"I've been an avid collector for 40 years," he said. "I've never sold anything, but I do trade a lot."
The 7,000-square-foot home is filled with display cases to showcase the "tens of thousands" of items in his collection. "It's pretty extensive," he says, noting that people often say it's "sensory overload" when they walk through the house."
While he had thought about building an RV at one time to help him win in "dogfights" with his neighbors at the airpark, he concedes he just doesn't have the time now. But he'd still like to fly one. "We were thinking of an RV-6, which will help us get back and forth to Jacksonville quickly," he said. "The RV-6 would make it a 40-minute flight, compared to an hour and a half in the Stearman. Plus I could be part of the formation flying at the airpark."
Lites admits he's "obsessed" with all things aviation. "I'm eaten up with aviation," he said. "It's a bad habit and I can't break it."
Why he is called 'Lites'?
Sun 'n Fun's new president has a nickname: "Lites," which is his Navy call sign.
"You don't pick your call sign," he explained. "In the first six months, you usually do something that stands out — something that goes south, like a stupid human trick."
During Leenhouts' first six months as a young Naval officer, he admits he had a "zealous approach and not enough sense to manage my energy."
His commanding officers noticed he had a lot of enthusiasm, but "not a lot of judgment," he said. "They said I was clueless, and since my last name sounded like lighthouse, they said the lights were out in that house."
He admits he was "Lites Out" for about three years, "until I started making better decisions" and it changed to just "Lites."
For a while, when he was the unit's PR person, his nickname changed once again — to "Lites, Camera, Action."
Today, everybody calls him Lites. "Just don't use the word 'out' and I'll be OK," he said with a smile during the volunteer meeting.
Facebook friends
Before my interview with Lites, I asked on the General Aviation News Facebook page if our readers had any questions they'd like to ask the new Sun 'n Fun president. Here are a few, along with answers from Lites:
Lori Darlin: What is the coolest thing planned for this year's show? The year I went (2007) they had those cool dot matrix type skywriters and I loved that! I also met Bob Hoover and Scott Crossfield and the president of Hartzell … banner year.
A: Things are still in the planning stages, with Sun 'n Fun officials heading to the International Council of Air Shows annual meeting in Las Vegas in early December to select the acts they want to perform at next year's event.
"We will be looking at some new ones," he said, noting he wants a "variety" of air show acts. He noted that a military jet team will perform at the 2012 show, but while he's 99.9% sure, he couldn't reveal the name until all the contracts were signed. He could reveal that the Black Diamonds, a jet team based at LAL, will be performing. EDITOR'S NOTE: Since this story was published, it was revealed that the Thunderbirds will headline next year's Sun 'n Fun.
Also invited to the show: Gene Cernan, the last man to walk on the mooon; Actor Gary Sinise and his Lt. Dan Band; and the Commemorative Air Force's B-29, which will give rides.
Also in the works is an incentive program for pilots who fly into the show, giving them a free program, a hat and a pin.
Look for more details as plans are firmed up.
Sebastien Heintz: What's the focus of Sun 'n Fun? Is it an air show for the general public or a fly-in convention for pilots and aircraft owners/builders? Over the last few years it seems that organizers have become more interested in putting on a show for the general public (at the cost of grass roots aviation), as evidenced by this past year's response to the tornado.
A: "We are literally both. We are doing everything we can to attract the fly-in community, so we are a fly-in that, by the way, has an air show too. The importance of the forums, plus bringing historic people to the event, such as Gene Cernan or Bob Hoover, are designed to get people to fly in. At the same time, how do we reach out to those outside aviation? They can drive their cars in and, maybe out of curiousity or an interest in the air show, they will say, 'hey, maybe I can do that,' and we inspire more people to get involved in aviation."
For more information: Sun-n-Fun.org