UL Power, which introduced itself to the US market at the U.S. Sport Aviation Expo in 2006, will be showcasing its engines and several factory-developed firewall-forward (FWF) installations at this year's show, Jan. 19-22.
"We are particularly pleased to be showing our engines and our factory-developed firewall-forward installations in Sebring this January," said Robert Helms, general manager of UL Power North America LLC. "Cooperation with [FWF launch customer] Zenith Aircraft Company in developing a complete installation for their CH 650 has resulted in the first of several popular OEM applications. Multi-fuel capability and FADEC coordination, coupled with simple air cooling and direct drive, should allow a lot more time in the air and less money spent on the ground."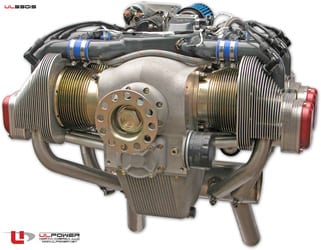 The full firewall-forward kit includes everything builders need to install the engine in their Zenith airframe, including engine mount, oil cooler, fuel pumps, propeller and spinner, and fiberglass cowl.
Producing from 97 to 130 hp, the company's four models of the purpose-built aircraft engines weigh between 160 and 173 pounds. The traditional and compact aircooled four-cylinder opposed, direct-drive layout features all-electronic FADEC ignition and fuel injection and it runs on 100LL avgas or auto fuel, according to company officials.
Sebastien Heintz, president of Zenith Aircraft, said, "The traditional layout, simplicity of incorporation, and ease of installation and operation make the UL Power engines very attractive to many customers. We anticipate ease of ownership and low maintenance to be big advantages to our customers."
In addition to Zenith CH 650 and -750 designs, UL Power has successfully flown in dozens of designs in both the US and Europe. UL Power is currently developing FWF kits (2012 delivery) for the VAN's RV-12, RANS S-19, the Just Aircraft Highlander, and several others.
For more information: ULPower.net