The FAA has released FAA Mobile, designed to provide quick access to FAA.gov tasks for general aviation enthusiasts on-the-go. You can look up N-numbers, find Advisory Circulars, browse airport delays, and more.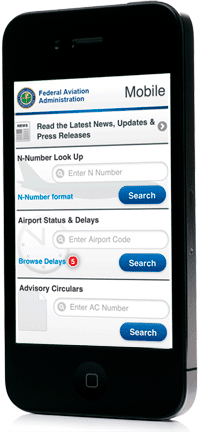 You can also access the full web version of FAA.gov by tapping a link at the bottom of any FAA Mobile page.
FAA officials note that FAA Mobile was created to address the needs of mobile users who visit FAA.gov. Mobile traffic to FAA.gov grew from 1.5 million to 4.4 million visits over the past two years. To address this rising demand, FAA Mobile was developed to help website customers complete popular tasks on mobile devices, officials said.
Other features include:
Flight Standards District Office (FSDO) Locator: Locate the closest offices based on your current location, if you have Location Services enabled on your device. You can also locate FSDOs by region or by office name.
Wildlife Strike Reporting: Report an aircraft wildlife strike or edit an existing wildlife strike report. See Example
News and Press Releases: Read the three most recent FAA news stories and press releases.
FAA Mobile 1.0 fully supports iOS 4 and higher as well as Android 2.2 and higher. The Blackberry (RIM), Windows Mobile, and WebOS platforms have not been tested by FAA officials, who warn that if you view FAA Mobile on one of those platforms, "your user experience may not be optimal."
People who read this article also read articles on airparks, airshow, airshows, avgas, aviation fuel, aviation news, aircraft owner, avionics, buy a plane, FAA, fly-in, flying, general aviation, learn to fly, pilots, Light-Sport Aircraft, LSA, and Sport Pilot.