"My Dinner with Andre" was the movie where two actors do little but talk over a meal (seemingly forever) about the meaning of life. I'm saying very few goodbyes to industry friends here before leaving D.C., but couldn't miss comparing notes earlier this month with the infamous Henry O. It was "My Dinner with Henry."
The "O" is short for Ogrodzinski, president of the National Association of State Aviation Officials (NASAO) since 1996. "Henry O" is known in many circles here, from his year as president of the Washington Aero Club to a still-renown turn on the Washington singles scene. His wife of many years now will pardon my recalling the visiting aviation official who dialed 4-1-1 for Henry's number. Struggling with that last name, he was relieved when a cute young operator said, "Oh, you mean Henry O?"
It was just drinks and appetizers this month, not dinner, but time for a career-final debrief on D.C. and aviation politics. We met at The Occidental, once THE place for 20th Century political schmoozing — walls of autographed 8x10s testify. In fact, the Cuban Missile Crisis was essentially solved here over dinner between ABC newsman John Scali and a Russian spy. A plaque marks the spot.
How appropriate to bid D.C. goodbye here in a last gut-check with Henry O. He was among the "Class of '80," my nickname for the young to middle-age PR people who walked in after GA's Go-Go '70s. Henry had left Delco to become EAA PR chief. By 1982, EAA introduced him to Washington, where he really wanted to make his mark. In 1988, GAMA got him and in 1991, Gulfstream.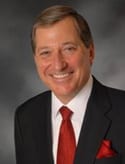 We told our stories, including his gold-plated G-V launch at NBAA and his trials with investor Ted Forstmann, who revolutionized Gulfstream after the Allen Paulson era. One of Henry's big deals – John Travolta's total IFR electrical failure and emergency landing at DCA — was, in fact, just glibly phoned-in from Las Vegas amidst more pressing company challenges with the Forstmanns. We shared another: Henry trying to marshal an elusive Ray Charles to the stage for his $10,000 one-song-only rendition of "America" to open the Aero Club's annual Wright Day Dinner, aviation's biggest Washington event. Let's just say it didn't go as planned.
I had stories, too, like seeing a sadly diminished John Denver at The Pioneer bar in Oshkosh. Not much later, I'd be working the phones about his crash. Over three hours, Henry and I could have been called name-droppers. But that's PR: Handling interesting people, often "where it's happening," and on deadlines spiced by the occasional crisis. We didn't forget the downside, either.
We discussed who didn't like us and why. It goes with the territory. PR people tend to breed contempt (or at least suspicion) among the political and technical professionals. This ranges from jealousy over public visibility to concerns over sensitive information handled by those close (some say beholden) to the media. Others just don't buy your act at all, which you tend to take personally. But Henry is philosophical about it these days, as am I.
It was time to go. Henry was kind to celebrate my prowess in writing and media relations. I lauded Henry's rise to the thick-and-thin of REAL Washington: The lobbying, testifying "on The Hill" and marching onto the dais with the other association presidents. He is GREAT with people and soldiers on as president of NASAO, keeping those 50 state officials happy and involved. I myself would have struggled just learning their names.
No wonder Henry O. is a special character among us "kids" who took our places well after aviation's prime. We caught the tail of it, though. And a lot of Oshkosh-going industry people fondly remember Henry, an association pro and proud former paratrooper. He revels in my tales as a pilot but quickly notes, "I jumped out of airplanes." He especially treasures EAA and family-close connections with Paul Poberezny and his Audrey, who recently confirmed to him "Henry, you're one of us."
Maybe "PR People" ARE an acquired taste. We're usually many notches down the ladder in corporations or Washington lobbies. But in organizations such as AOPA or EAA, we find a good (if not the best) place to practice our trade. Hearts and minds are important there; winning them is very close to the core mission. Sometimes those missions compete with other advocates. EAA and AOPA, for instance, sometimes butted heads during my AOPA time. But that story is written now. Besides, during Henry's tenure at EAA, there was never a problem.
They say if you want a friend in D.C., get a dog. However, we two circa-1980 PR types can be pet-free. It was a feast of interesting jobs and many, many working friendships. Can't ask for much more. It's just time now to pay the tab and move on.
So long, old friend. So long, D.C.
Drew Steketee was president of BE A PILOT, senior vp-communications for AOPA and executive director of the Partnership for Improved Air Travel. He also headed PR and media relations for Beech, GAMA and the Airport Operators Council International.
© 2012 Drew Steketee All Rights Reserved
People who read this article also read articles on airparks, airshow, airshows, avgas, aviation fuel, aviation news, aircraft owner, avionics, buy a plane, FAA, fly-in, flying, general aviation, learn to fly, pilots, Light-Sport Aircraft, LSA, and Sport Pilot.