Hail season is approaching quickly. Some time ago, Kennon was asked to propose a solution for Raytheon to protect the T-6 Texan from baseball-sized hail falling from the sky at a terminal velocity of 125 mph. Owner Ron Kensey had a "hail cannon" built. He then froze baseball-sized ice balls and shot them at various combinations of material over aircraft aluminum.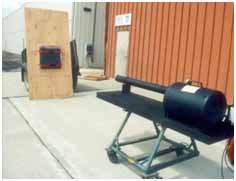 Kennon's "hail cannon" was built to test various hail cover solutions. The team concluded that padded covers would have to be the size and thickness of gym mats to prevent Mother Nature's damage.
There are many things to consider when attempting to protect dozens of aircraft on a training field, company officials said. When do you install the covers? If hail covers are bulky, where can they be stored when not in use? Hail is often accompanied by high winds — what if the wind blew the hail covers off of the aircraft in the middle of a hail storm? The covers musn't absorb water.
Kennon was not awarded the contract with Raytheon, but the team learned a lot. On a subsequent visit to Raytheon, the Project Manager showed Kensey the winning solution: The covers took up space the size of a small, office-sized room and they looked like gym mats. Both gentlemen shook their heads. It would take a Shea Stadium ground crew to install the covers, and a new building in which to store them.
The lesson Kennon learned is that, while there is a real need for aircraft hail protection, hail comes in all sizes and under the worst climactic conditions. "It would be heartbreaking for Kennon and its customers to sell something that was just short of providing the necessary protection to hail damage," company officials said. "Besides, this is America, the land of trials and trial lawyers. Even with the best of intentions and all of the disclaimers in the world, manufacturers are often held liable, and hail can destroy an aircraft."
Kennon developed the Spoiler Mesh Wing Cover, which will keep a plane from flying when on the ground. The spoilers disrupt the airflow over the wing and prevent lift, company officials said, adding they will not blow off of an aircraft because they are constructed out of mesh.
Kennon officials also recommend experimenting with swimming pool noodles between Kennon's Spoiler Mesh Wing Covers and the flying surface to create a "trampoline effect." Kennon recommends the spoiler mesh covers over solid covers because the solid covers would be less likely to hold up to any wind that accompanies hail. The size, location and number of noodles will need to be determined on an individual basis. "Remember, this is experimental territory," company officials said.
Meanwhile, Kennon donated the "hail cannon" to the University of Wyoming Engineering Department. It is famous among students. Word on the street is that it is also the best darn potato gun anyone has ever seen.
For more information: KennonCovers.com
People who read this article also read articles on airparks, airshow, airshows, avgas, aviation fuel, aviation news, aircraft owner, avionics, buy a plane, FAA, fly-in, flying, general aviation, learn to fly, pilots, Light-Sport Aircraft, LSA, and Sport Pilot.