The Commemorative Air Force's star attraction, the B-29 "FIFI," landed late in Daytona Beach March 1 because she flies "VFR only" these days. But she immediately swelled the hearts of World War II vets and awed general aviation flyers here more than a decade after her last Florida appearance. And there's more to come.
Sun 'n Fun visitors are in for a treat March 27-31. So are the aviation-minded in Titusville March 7-11 at the TICO warbird show, Ft. Lauderdale March 14-18, Punta Gorda March 18-25 at the Florida International Airshow, and in Tallahassee April 3-5.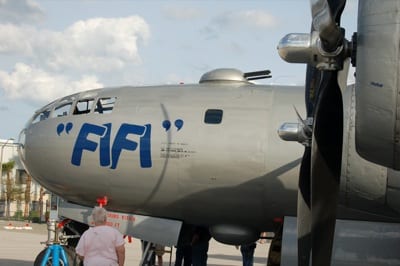 Why the excitement? The B-29 pioneered many features of post-war military and airline aircraft, from centralized computer control of its defensive fire to its Garrett AirResearch pressurization. Its operations near the stratosphere first revealed the jet stream — the bane of high-altitude bombing in the Pacific and a new factor in long-range flight planning and modern weather forecasting. And FIFI is the only B-29 flying of the 3,970 built.
She had been on "injured reserve" for years after powerplant woes and a failed engine replacement, but returned to the airshow circuit in 2010 after a second re-engining. CAF flight engineer Brad Pilgrim of Snyder, Texas, described FIFI's "new" powerplants as built up from engine sections off old C-119 cargo planes and single-engine Douglas Skyraiders.
Comically, each engine is christened in paint on its cowling — named not, as I had suspected, for crewmember's wives but for four Hollywood actresses: Ingrid, Mitzi, Rita and Betty. And most unusually, throttles and other controls for Bergman, Gaynor, Hayworth and Grable are all reversed on the flight engineer's panel. Why? Because he sits backwards. Controls are in 4-3-2-1 order left to right, just as the FE sees the engines looking rearward at the wing behind him.
Thanks to those new engines, FIFI is back out there with 8,800 total horsepower but is throttled back these days to 180-190 mph, burning 400 gph and costing $9,000 an hour. Wow! (It helps that Daytona host Yelvington Jet Aviation offered CAF avgas at a discount.) FIFI runs fine on 100LL, which flight engineer Pilgrim says is close enough to World War II 100/115 through 44 inches of manifold pressure. "I can't see any reason we can't fly her another 30 years if the avgas is there," he says. To coddle her, CAF flies FIFI at about 100,000 pounds MGTW.
Pilgrim is one of CAF's four B-29 flight engineers and a real-life C-17 loadmaster at Altus AFB in Oklahoma. He jokes he's the last B-29 FE in the USAF, albeit indirectly, since the last "weather-recon" WB-29 retired from active-duty odd jobs in 1964. However, even Pilgrim's (unofficial) title goes away with his upcoming Air Force retirement in May.
"She's treated gently," says Pilgrim. FIFI survived in part because she was built at war's end in July 1945. Order number AF 44-62070 (now NX529B) went straight from the factory to a training squadron, not combat. Only three of some 20+ museum-housed B-29s are combat veterans. Since America ended World War II with 365,000 military planes of all types, Pilgrim says, many combat veterans were abandoned overseas or scrapped immediately at home. Today, FIFI requires 175 hours of maintenance for every hour she flies as the last of her breed, he says.
Part of the FIFI tour is the invitation of local B-29 veterans to come out for photos, fellowship and a chance to sit again at their old stations — either up front in the cockpit or in a second (rear) pressure vessel behind the double bomb bay. (FIFI, however, cruises unpressurized these days at 9-10,000 feet.) Rides are sold for each tour stop. Prepare to pony up $595 (rear compartment) to $995 (cockpit area) for this rare privilege. The rider up front in the nose (the $1,495 bombardier's seat) must remain seated; others may roam but not transfer between crew areas. Discounts are available for advance reservations at CAFB29b24.org.
Some 20-25 vets showed up in Daytona, and an energetic group of 80-year-olds they were! "Ever land on Iwo Jima?" one vet challenged another. Thirty-one-mission tail gunner Jack Esper of Gloversville, N.Y., climbed aboard a B-29 for the first time since Augus, 1945. B-29 co-pilot Ed Dunn, a homebuilder and Glastar pilot at the Spruce Creek Fly-In community outside Daytona, proudly recalled his three recent Wichita trips to work on a new Stratofortress restoration, the B-29 "DOC."
FIFI tours are $5 on-site. Pilots will marvel at the "pedestal" pilot and co-pilot positions so far back from the glazed nose, as if those flying were sitting in the middle of a room amidst the bombardier, flight engineer, navigator and radio operator, an odd set-up. In the aft compartment, a pressure bulkhead looks much like a well-riveted boiler of the era.
Look for FIFI at Sun 'n Fun. She's the one with a big "A" tail insignia. Visiting vets always grouse, "There was no A squadron!" Right they are. FIFI's "A" stands for Victor Agather, the pioneering CAF member most responsible for saving 44-62070 in 1971 from her later life as a strafing target at NAS China Lake, California.
And who was "FIFI"? She was Agather's wife and the mother of Neils Agather, member of today's CAF general staff. We lost the real Fifi just a few years ago, but FIFI still plies America's skies so all can see and learn.
If you're at Sun 'n Fun March 27-31, don't miss her.
© Drew Steketee 2012 All Rights Reserved.
People who read this article also read articles on airparks, airshow, airshows, avgas, aviation fuel, aviation news, aircraft owner, avionics, buy a plane, FAA, fly-in, flying, general aviation, learn to fly, pilots, Light-Sport Aircraft, LSA, and Sport Pilot.