The "first new amphibian design in 60 years" is how John Meekins, the energetic president of Privateer Industries, bills the Privateer.
A desire to fly, with friends and family, from his waterfront home on the east coast, led Meekins to test several seaplanes. None met his mission with personal margins for safety and performance. That's when Meekins, a Norfolk, Va.-based commercial real estate developer, put pencil to paper and sketched the design that is nearing prototype completion in the hangar of Orion Technologies on Harvey Airfield in Snohomish, Wash.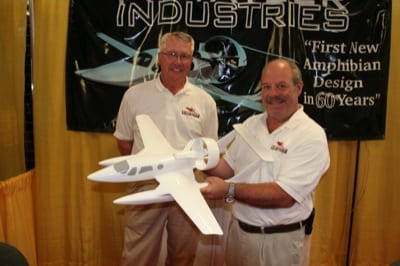 The original idea, simply stated, was twin hulls with a shrouded pusher propeller. And that is what I saw during a visit in late January to Orion's hangar.
THE PLANE
The Privateer is an amphibious, low-wing, turboprop-powered pusher seaplane constructed of carbon fiber composite material. The floats are symmetrical and interchangeable. A spare float can be installed on either the left or right side.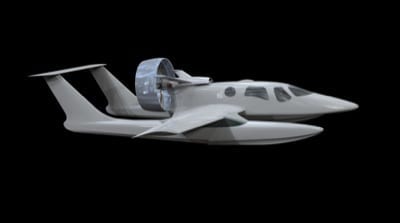 When on land the gear is configured as a tri-cycle, not a four-wheeler like "traditional" floats. In addition to land and water, the Privateer is also designed to operate from snow.
The aircraft measures 43 feet nose-to-tail, 42.9 feet from wingtip-to-wingtip, and 12.3 feet tall when on land (with the gear down).
A great deal of capacity for the single pilot and five or six passengers (depending on configuration) comes from the 6,000-pound gross and 3,600-pound empty weights.
Cruise speeds are forecast to be 195 knots at sea level and 215 knots at 15,000 feet, providing a 1,000-mile VFR range and 800-mile IFR range from its 200-gallons of Jet A.
Power will come from a 724-shp Walter 701-series turbine engine configured as a pusher with the propeller wrapped in a shroud.
Being a low-wing pusher with nearly 40 feet of nose-to-tail float in the water, the center-of-gravity is very low. So low in fact, Meekins thinks the plane could be landed wheels down in the water and NOT flip over. That said, he wasn't interested in signing up for that ride.
Orion has completed all major sub-assemblies. The remainder of the winter and spring will be spent on secondary assemblies and systems. If all goes as planned, system and taxi testing will begin near the end of this summer, Meekins said.
THE PEOPLE
John Meekins, who we'd met at Sun 'n Fun a few years back, invited us to be among the first to see the progress five years and 5,000-5,500 hours has brought to the plane.
Orion Technologies was founded in 1984 in San Diego by Husa and has operated from the Pacific Northwest since 1986. Husa has designed for General Dynamics, HITCO Aerospace, Boeing, and others. "Hypersonic and trans-atmospheric applications, fighters and unmanned air combat vehicles, and several forms of missiles" fill Husa's design resume.
Azucena "Suzana" Infante joined the company a few years ago as co-owner and project manager in "connection with fabrication, prototyping and other aspects of part development and assembly."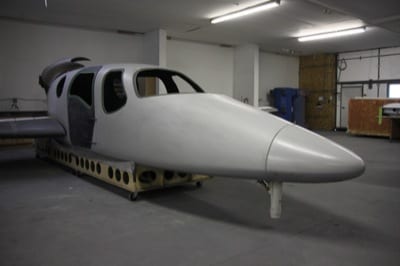 Husa and Infante are Orion. With just two people, the project has progressed at a slower pace, but has allowed costs to be greatly reduced. Speaking of cost, Meekins wouldn't share exact financial figures, but says he has "spent less than you might have expected — less than $5 million."
In addition to Meekins and Husa, Frank Leventhal, who handles promotion and sales, also holds a stake in the partnership. In fact, it was Leventhal — director of maintenance and chief pilot for Tactical Air — who brought Meekins and Husa together.
THE BUSINESS
To date, Meekins has funded all project development, but the day following my visit, representatives from Fisher Investments were to be onsite for a briefing. In a follow-up conversation, Meekins confirmed that officials from the investment firm have asked to see the project.
Unlike many certificated aircraft programs, Meekins plans to outsource manufacturing to a company with excess capacity in its already-certified manufacturing facilities. Dornier and Bombardier were but two companies Meekins felt might be a good fit.
The project is gaining attention from interested parties globally and Meekins said he has also been tracked down by officials from the Department of Defense, as well as a few central and south American countries, not to mention some European interest, in the new amphib.
"The market is finding us," said Meekins.
Meekins and Husa project a 2,000 to 2,500 aircraft demand in the near-term with 15,000-plus in long-term demand. "There is no competition! Nothing in its class," noted Husa.
"What's it going to cost?" I asked.
"I don't know," was Meekins' quick response. "We are looking to price it based on supply and demand rather than cost plus profit."
Not building and certifying their own manufacturing plant will save a great deal of money — and time — but how much is yet to determined, company officials note.
It is hard not be inspired by their enthusiasm. There is something about being in a building with three of the four people directly connected to a project. Privateer has, so far, flown under the radar. In fact, the company has appeared at Sun 'n Fun and AirVenture just once. When they push the completed prototype out of the hangar, I suspect they'll pop up on a few more radar screens.
For more information: PrivateerIndustries.com
People who read this article also read articles on airparks, airshow, airshows, avgas, aviation fuel, aviation news, aircraft owner, avionics, buy a plane, FAA, fly-in, flying, general aviation, learn to fly, pilots, Light-Sport Aircraft, LSA, and Sport Pilot.