Splogger (Sport Pilot Blogger) Dan Johnson continues his recap of what he found interesting at this year's Sun 'n Fun. Today: Ultralights:
North Wing showed its new composite body Solairus Part 103 trike. I flew it with the 20-hp Bailey single cylinder four stroke electric starting engine from the UK. What a hoot! Watch for a mini-review on my website.
Sun 'n Fun visitors saw the Verner two-cylinder four-stroke engine on the Sky Cycle, another Part 103 trike. (Part 103 "ultralight vehicles," as FAA calls them require no pilot license or N-numbers. The category celebrates its 30th anniversary this fall!) The four-stroke Verner offers 35 horses and electric starting. I'd flown the four cylinder version of the Swiss engine many years ago and was impressed with its smoothness.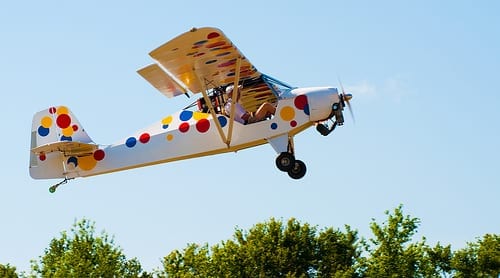 The Part 103-legal "Wonder Bread" Belite aircraft turned many heads with its bright "spotty" paint job and the world's lightest instrument panel. The solid-state "gauges" make a panel less than an inch thick, really great for ultralight aircraft but popular among homebuilders, too.
We did a fun interview with the "Father of Ultralights," John Moody, and we checked out his two 1980s Eagle ultralights, plus the 1976 Easy Riser he uses in an airshow act. John's a great guy who deserves the attention. (I am honored to have won the USUA's Moody Award in 1999.)
For more information: ByDanJohnson.com
People who read this article also read articles on airparks, airshow, airshows, avgas, aviation fuel, aviation news, aircraft owner, avionics, buy a plane, FAA, fly-in, flying, general aviation, learn to fly, pilots, Light-Sport Aircraft, LSA, and Sport Pilot.