Angela McCartney Miro and her brother James F. McCartney recently teamed up to write a memoir on his aviation career in "Jim McCartney: My Life in Flight." After being diagnosed with stage IV pancreatic cancer, McCartney said he wanted to record his experiences in the air to pay tribute to his friends in aviation.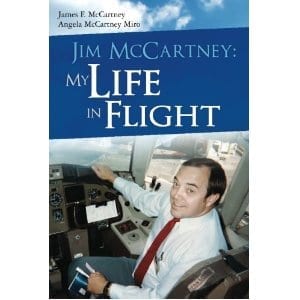 McCartney recalls his aviation career and what it was like to work at four different airlines through deregulation, bankruptcies, contract negotiations and mandatory retirement at age 60. He shows the inner workings of how airlines operate and highlights the role pilots and finances play beyond what most people would think.
McCartney wanted to fly airplanes since he was a small child. As he approaches the end of his life, he finds that the cockpit of an airplane is the most comfortable place he can be, where he feels at peace with God, the universe and within.
McCartney's aviation career prepared him to face his final chapter. Pancreatic cancer grounded McCartney and set him on a path to battle the cancer that inevitably leads to death. The look back on his life helped him to accept his fate with peace, faith and courage. And he says that while his life did not work out exactly as he planned, upon reflection, he finds he would not change a thing. He followed his childhood dream and spent his life doing what he loves — flying airplanes.
"Jim McCartney: My Life in Flight" is available for sale online at Amazon.com and other channels.
People who read this article also read articles on airparks, airshow, airshows, avgas, aviation fuel, aviation news, aircraft owner, avionics, buy a plane, FAA, fly-in, flying, general aviation, learn to fly, pilots, Light-Sport Aircraft, LSA, and Sport Pilot.