Sporty's has assembled a pint-sized cleaning kit to keep in your airplane. One pint containers of an assortment of cleaning supplies will ensure your airplane gleams even after a long flight. The small size of the containers makes sure your weight and balance won't be thrown off with bulky gallon bottles, company officials note.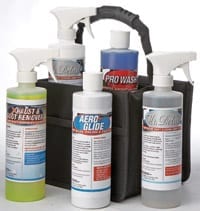 The Sporty's Fly Away Cleaning Kit contains all the basics needed to keep your airplane looking new. Each kit includes N'viro Solve, a bio-based degreaser; Xhaust & Soot Remover, a powerful cleaner/degreaser; Pro Wash RX, an everyday cleaner; Aero Glide, a dry wash/polish; and Mr. Detail, which cleans and shines. Every chemical has been tested and is safe for aircraft, Sporty's officials said. An optional, convenient bag keeps all products organized and in one place.
Sporty's Fly Away Cleaning Kit [B2098A]is available for $49.95, with the Cleaning Kit Bag [7655A] available for $15.95. Gallon size containers of these products as well as a box of 100 Dupont Aerospace Wipes [7726A] for $17.95 are also available.
For more information: Sportys.com or 800-SPORTYS.
People who read this article also read articles on airparks, airshow, airshows, avgas, aviation fuel, aviation news, aircraft owner, avionics, buy a plane, FAA, fly-in, flying, general aviation, learn to fly, pilots, Light-Sport Aircraft, LSA, and Sport Pilot.