Jennifer Julian, 54, is a double lung transplant survivor. Scratch survivor. She's a "thriver." And today, she is a student pilot.
Julian, who live in Castro Valley, Calif., was first diagnosed with lung disease in 1998. As her health deteriorated following the diagnosis, she began to wonder if the doctors at Stanford would be able to save her. In July 2006, doctors did save her.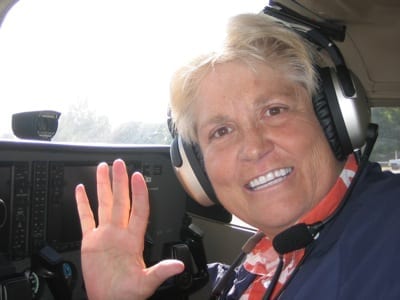 "The key thing for me is attitude," said Julian in a Stanford Hospital video on YouTube. "That attitude will take you through the peaks and the valleys. Whether you are depressed or you're happy, you've got believe in yourself."
It's rather odd to be watching a video discussing lung transplantation with airplane imagery in the background. Given how tough the aeromedical aspect of flying can be, it is refreshing to see Julian, the double lung transplant recipient, get the green light medically. In fact, she holds a Special Issuance Third Class Medical good into 2013.
"Stanford doctors are constantly poking me, so another exam isn't a concern," said Julian. She does admit the power an aeromedical doctor has, but feels confident "her guy" will help her maintain her medical.
Since growing up in Idaho Falls, Idaho, Julian has always wanted to learn to fly. She remembers, as a young child, hanging out in her father's hangar. Not even her dad's death as a result of an accident in his Cessna 182 dampened her dream.
But like many, life's challenges posed obstacles that prevented her from learning to fly. "No money" in her college days, to no "time or money" after college.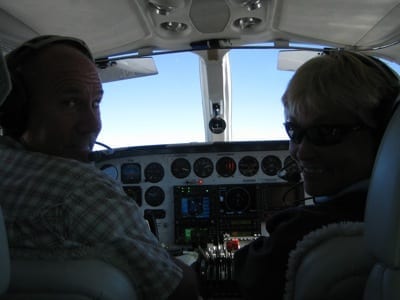 In March 2010, Julian hooked up with her long-time friend Georgette Loring who, along with her husband Brick, owns a Cessna 414 in Salt Lake City. The fact that Loring earned her certificate later in life buoyed Julian's spirits. Following a few trips in the 414, in which Julian was able to fly, she "went up a few times with an instructor as a celebration of my lung transplant anniversary."
Once Julian decided to fulfill her dream, she had to decide whether to pursue a Sport or Private certificate. The allure of not having to be concerned about a medical was appealing, but she ultimately decided that if she was going to learn to fly, she "wanted to go after it all." Julian intends to earn her instrument rating in the future.
She began interviewing instructors in September 2010, selected Kelly O'Dea the following February and has been flying with her ever since.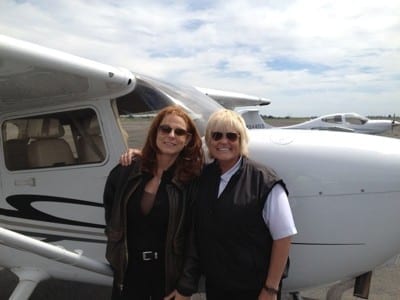 "Choosing the right flight instructor was an important task for me. I did a few demo flights with various instructors that offered their individual style of teaching and it was a tough choice," said Julian. "I knew when I first talked to Kelly on the phone that she had something to offer that I was interested in. She showed such enthusiasm and support of my desire to fly. She also was willing to help me by researching the medicines I was taking and put me in contact with the necessary medical examiners I would need for getting my medical."
O'Dea was ready to solo Julian in August 2011, but "a Rolodex of excuses" kept her flying dual until Oct. 11, 2011.
Julian now has about 210 hours. "But I want to earn the Guinness record for taking the most hours to learn to fly," she said with a laugh. "Remember, I've been given another chance in life, so time is a bit more flexible for me."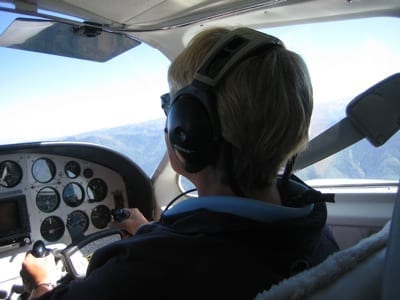 Julian completed her first solo cross-country the week of April 15. When I spoke with her on April 24, she was getting ready to go airport hopping at six or seven airports in the San Francisco Bay area. From there, she'll begin preparations for her solo long cross country and hopes to take her private checkride in late June or early July.
A second chance in life has given all of us in general aviation a wonderful advocate. Julian, like many of us, has multiple titles — daughter, friend, student, graduate, retiree, transplant recipient. But I think "pilot" will be among the titles she'll most cherish.
People who read this article also read articles on airparks, airshow, airshows, avgas, aviation fuel, aviation news, aircraft owner, avionics, buy a plane, FAA, fly-in, flying, general aviation, learn to fly, pilots, Light-Sport Aircraft, LSA, and Sport Pilot.