TrustedFuel.com, an online resource center for aviation fuel handlers, is now live, built with a range of information, technical data, specifications, training tools and links to additional industry guidance.
Designed as a technical library for fuel handling that can be accessed online, TrustedFuel.com was developed by Phillips 66 Aviation for its branded dealers, the nation's largest network with 870 FBOs. The website is only available to those FBOs.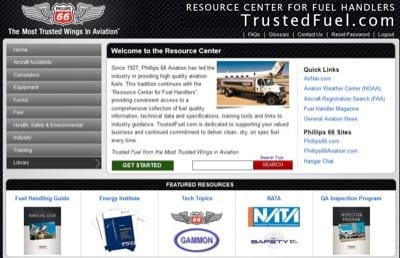 What started as an initiative to electronically publish the Phillips 66 Aviation FBO operations manual became a full-on effort to build a library of fuel handling resources and best practices, explains Ryan Manor, Director Quality Control & Technical Support for Phillips 66 Aviation.
"TrustedFuel.com is a robust resource, rich with information on fuel quality and handling," Manor says. "It provides a virtual library that can be easily accessed and searched by line crews and FBO operations managers. TrustedFuel.com is another tool in the toolbox that Phillips 66 Aviation provides our customers to help deliver clean, dry, on-spec fuel every time."
For more information: TrustedFuel.com, Phillips66Aviation.com
People who read this article also read articles on airparks, airshow, airshows, avgas, aviation fuel, aviation news, aircraft owner, avionics, buy a plane, FAA, fly-in, flying, general aviation, learn to fly, pilots, Light-Sport Aircraft, LSA, and Sport Pilot.