Airshow stars from the U.S. and around the world will be part of the daily performance lineup at EAA AirVenture Oshkosh on July 23-29 in Oshkosh, Wisconsin, joining homebuilts, vintage aircraft, warbirds, ultralights and other airplanes at what's called "The World's Greatest Aviation Celebration."
EAA AirVenture, the world's largest fly-in convention, annually attracts more than 500,000 visitors from 65 nations, along with 10,000 airplanes each year.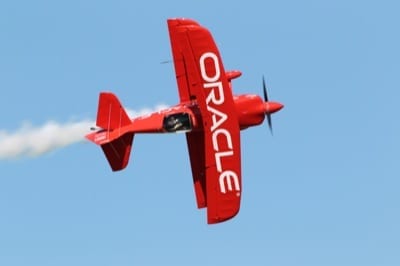 Among the headlining performers in 2012:
The Brazilian Air Force's Esquadrilha da Fumaca, or "Smoke Squadron," with high-performance team aerobatics
Canadian SkyHawks parachute team, one of the world's best skydiving squads
Team RV, pilots of custom-built aircraft who perform individual and team aerobatics
The world's best civilian airshow performers, including Sean D. Tucker (pictured), AeroShell Aerobatic Team, Red Bull Air Force, and others, along with the Oshkosh night airshow.
This year's 60th annual EAA AirVenture event also highlights World War II's "The Greatest Generation in the Air," recognizing the 70th anniversary of the Doolittle Raiders' mission and the Tuskegee Airmen. In addition, hundreds of thousands of aviation enthusiasts will honor the 75 anniversary of the iconic Piper Cub aircraft.
"The gathering of airplanes, aviators and those who enjoy the world of flight at EAA AirVenture is unmatched," said Jim DiMatteo, EAA vice president of AirVenture features and attractions. "The name 'Oshkosh' is instantly recognized worldwide for the fascination of flight, innovation and discovery. It truly is aviation's family reunion."
EAA AirVenture also features nearly 1,000 forums and workshops, 700 exhibitors, and aircraft displays from the smallest ultralights to airliners and military transports.
For more information: AirVenture.org 
People who read this article also read articles on airparks, airshow, airshows, avgas, aviation fuel, aviation news, aircraft owner, avionics, buy a plane, FAA, fly-in, flying, general aviation, learn to fly, pilots, Light-Sport Aircraft, LSA, and Sport Pilot.