A seaplane trip to Bimini? I took the bait and learned a lot, had a good time and spent more than I should. But getting away to an island is the perfect case for general aviation. And Bimini is closer to the Florida coast than any Bahamas island.
I got the chance to ride along with Jones Brothers Air and Seaplane Adventures, the great guys based at "America's Seaplane City," Tavares, Florida. This trip, however, would depart from the Lakeland-Lake Wales area. Flying right seat in their Twin Bee amphibious seaplane, I savored a splendidly clear day to see the Florida interior out of those big windows. Based on the '40s-era Republic Seabee, the Twin Bee has the room that cars, airliners and biz planes used to have. This was a classic and comfortable ride.
The event was organized by the Bahamas Ministry of Tourism, the Bimini Bay Resort and the Seaplane Pilots Association (SPA). The price was right: No registration fee, deep discounts on rooms, and a very generous Friday night welcome party with all the drinks, conch fritters and grouper you could consume. Attending were folks from as far away as Dallas and California.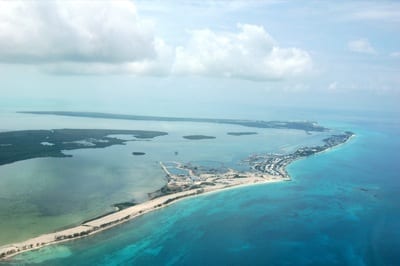 Aside a beautiful "infinity pool" overlooking the Atlantic, new SPA executive director Steve McCaughey said he hoped to stage similar events around North America. His goals are to dramatize the adventure of water flying, get his members flying more, and welcome new pilots into the fold. Despite bad weather on Day 2 (which deterred Saturday arrivals, even the planned speakers), this was a good start. SPA wants to make Bimini an annual event. And even before next year, Bimini Bay announced that for the remainder of 2012, private pilots will enjoy 25% off the standard room rates.
The extensive resort occupies the northeast third of the long narrow spit that is North Bimini Island. Our approach was beautiful, connecting with a flight of three incoming floatplanes to land #4 in Bimini Channel. Unfortunately, beaching the amphib at the government ramp suffered from misgraded sand in front of the ramp. A third and final wheels-down charge onto the exposed pavement edge brought success but also a flat tire. (True to seaplane comaraderie, a buddy at Tropic Ocean Airways had a new tire and tube out there before sundown.) Added to that flat tire was an irritating clearance delay; one Bahamian official hadn't gotten the word about our "pre-arranged" arrival there. Busted tire, island-time delays and (for me) no room A/C the first night, but we took it all in stride.
The taxi ride through local towns to the resort might be sobering for some not used to The Bahamas, Bimini especially. But on arrival at Bimini Bay, all is modern, rich-looking and appropriate to an upscale audience. A marina welcomes the big yachts. A casino will soon bring lots more excitement, especially when the new high-speed ferry begins calling.
True to his mission for SPA, McCaughey devoted part of his weekend to working with resort management on locating a new, on-property seaplane ramp. That will really make Bimini Bay an SPA destination.
But our group enjoyed a few forays into "the real world" of Porgy Bay and Alice Town to visit three popular destinations: Stuart's for fresh conch and lobster salads, Maria's for conch and lobster pizzas with that sweet Bahamian crust, and the Big Game Fishing Camp of Hemingway fame. Sport fishing still draws folks to "the island in the stream." In fact, many other Bimini Bay guests that weekend were there to nab the Gulf Stream's bounty in a fishing tournament.
I spent more than I planned. An extra day for weather was unavoidable, but the astronomical rates for cell phone data and calls home were a shock. And the Bahamas gets you one last time with a $25 departure tax at the airport, from which I accompanied Jones Brothers' co-owner Ricci Rowe in his 1952 C-195 back to U.S. Customs in Palm Beach. If you fly there on wheels, Bimini airport (MYBS) is but a short taxi jaunt and five-minute ferry ride away on South Bimini.
If you're flying to The Bahamas, the main reason for choosing small, isolated Bimini is its proximity (less than 50 nm) to the Florida coast. For the single-engine nervous or for easier options with convective weather around, it's close. (Very close! Don't return west before climbing to get an ADIZ code from Center.) But Bimini is close only to the busy, complex airspace of Miami and FLL. The slant distance from Palm Beach International (easier Customs, better-located to/from most of Florida) means a longer over-water leg. That tempts consideration of alternative destinations over West End, Grand Bahama Island, and down the island chain to the more fashionable "Out Islands."
Back in the Twin Bee at PBI, I flew again with Jones Brother's co-owner Eric Weaver, who does the multi-engine sea ratings. Those water landings were sublime, the gentlest I'd ever experienced. Included was a splash in Lake Okeechobee to wash off the salt. Subsequent sightseeing was great along remote canals at low altitude. Two engines, seaplane hull, no problem, no sweat — just a beautiful education on the Florida interior through those big beautiful windows.
Here's to continued success at other SPA events to get us flying beyond our comfort zone and exploring places beyond the everyday. Isn't this why we challenged ourselves to be pilots in the first place? Perhaps you can find an SPA member willing to share the ride.
For more information: Seaplanes.org
Story and photos © 2012 Drew Steketee All Rights Reserved.
People who read this article also read articles on airparks, airshow, airshows, avgas, aviation fuel, aviation news, aircraft owner, avionics, buy a plane, FAA, fly-in, flying, general aviation, learn to fly, pilots, Light-Sport Aircraft, LSA, and Sport Pilot.