Unmanned avionics company Sagetech Corporation brings its expertise in miniaturization to the general aviation market this summer with its new ADS-B receiver. The Clarity family of ADS-B receivers offers an array of features in a portable unit smaller than a hockey puck.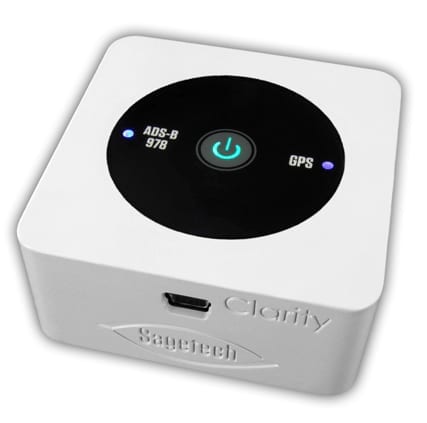 Highlights include:
Dual-Link ADS-B data receiver (978 MHz, 1090 MHz)
Integrated AHRS for 3D Synthetic Vision apps
Free in-flight weather (NEXRAD radar, PIREPS, forecasts and more)
Data-Burst Technology to buffer ADS-S messages while your iPad sleeps
Sagetech360 Internal Phased Array Antenna for superior omnidirectional performance
WAAS GPS
No wires
Battery powered; up to 12 hours of operation, or operate/charge in flight
Open compatibility, supporting WingX and all other participating EFB app software
WiFi connection to iPad
Four models are available, with prices starting at $699.
For more information: SageTechCorp.com
People who read this article also read articles on airparks, airshow, airshows, avgas, aviation fuel, aviation news, aircraft owner, avionics, buy a plane, FAA, fly-in, flying, general aviation, learn to fly, pilots, Light-Sport Aircraft, LSA, and Sport Pilot.