It is pretty rare for a civilian to be taken for a ride in an Air Force supersonic T-38 Talon. But when Hualdo Mendoza volunteered his talents and time to assist the Air Force in rebuilding a highly prized replica World War I fighter, the Air Force offered him the ride of a lifetime as a gesture of appreciation for his contribution.
The rebuild project was a replica Nieuport 28 that symbolized the famous 94th Hat in the Ring squadron, home to the famous Eddie Rickenbacker, who shot down 26 aircraft while flying with the 94th. Today the 94th flies F-22 Raptors. The Nieuport, which had become a fixture at Langley Air Force Base in Virginia since its dedication in 1984, was destroyed in a wind storm.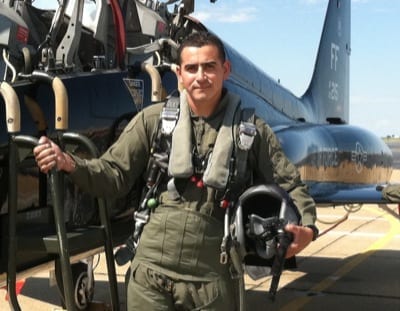 Though it has been many decades since anyone in the Air Force worked on a wood and fabric aircraft, the decision was made to rebuild the Nieuport. Air Force mechanics found some unused shop space, brought in tools rarely seen, like a table saw, band saw and sanders, and volunteered their time. Jon Goldenbaum, a retired Colonel who flew F-15 Eagles and currently owns Consolidated Aircraft Coverings, donated the fabric and paint for the project.
One of the people Jon had mentored in restoration work was Hualdo Mendoza. A former member of a street gang, Hualdo, who had been kicked out of high school, turned up at Flabob Airport with his brother, Nando, through a gang intervention program sponsored by the local school district, The Tom Wathen Center and Poly Fiber.
As a former combat fighter squadron commander and Viet Nam vet, Goldenbaum reasoned that gangs had much in common with fighter squadrons: Both are run entirely by peer pressure and loyalty to the group. Their only fear was looking bad to the gang. So treating them like a fighter squadron, Goldenbaum taught them a trade and they excelled at it. They have restored a number of valuable antique aircraft to superlative condition.
After 10 years, Hualdo has become a pilot and a technical specialist for Poly Fiber. He now travels internationally to teach others how to apply fabric and paint to aircraft.
A few months ago, Hualdo and Jon traveled to Langley Air Force Base to assist the Air Force mechanics in covering and painting their Nieuport. When the Nieuport was returned to its display stand, the Air Force made an offer to Hualdo he couldn't refuse. It's a long way from hanging with a street gang to supersonic flight, but Hualdo clearly recognizes the value of the road he's traveled.
People who read this article also read articles on airparks, airshow, airshows, avgas, aviation fuel, aviation news, aircraft owner, avionics, buy a plane, FAA, fly-in, flying, general aviation, learn to fly, pilots, Light-Sport Aircraft, LSA, and Sport Pilot.