In a program designed to bring the origins of flight into modern day, Flabob Airport (RIR) in Riverside, Calif., will become the site for an Aerial Cavalcade Sept. 29. On that date, people will have the rare opportunity to see a Wright Flyer replica make a flight straight down the runway. A French Bleriot is also expected to fly. These two pioneer aircraft will be followed by flying machines from the 1920s, 1930s and '40s. Commentary will detail the significance of each aircraft that departs the grass runway.
The Aerial Cavalcade, part of what the organizers plan to make an annual Flying Circus, will be part of a four-day event. Arrivals for the program will begin on Thursday, Sept. 27, and continue on the following day. More than 70 antique aircraft are expected to participate and most are expected to be flying around the area on Thursday and Friday. Flabob will be closed to outside traffic on Saturday while the Cavalcade is in progress.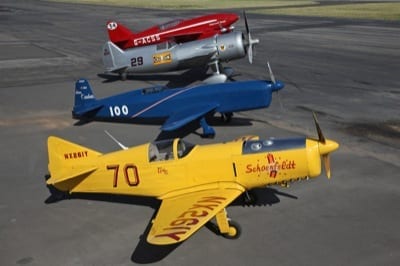 Airplane camping will be available to pilots of taildragger aircraft for $5 per night. Pilots flying tricycle aircraft are encouraged to land at Riverside Municipal Airport, and use free transportation to Flabob. Adults driving in will be charged $10. Children under 12 are free.
For more information: FlabobFlyingCircus.com
People who read this article also read articles on airparks, airshow, airshows, avgas, aviation fuel, aviation news, aircraft owner, avionics, buy a plane, FAA, fly-in, flying, general aviation, learn to fly, pilots, Light-Sport Aircraft, LSA, and Sport Pilot.