Every year, Ford Motor Co. designs a one-of-a-kind Mustang to auction at EAA AirVenture. For 2012, Ford has created a "Red Tails Edition" Mustang to honor the famous Tuskegee Airmen, the first African American aviators in the United States Army Air Corps. This special Mustang will be auctioned off on Thursday, July 26, to benefit the Experimental Aircraft Association's Young Eagles Program.
Past auction vehicles include the AV8R, the AV-X10 "Dearborn Doll", the SR-71 Mustang and the "Blue Angels" Mustang that, in total, have raised more than $1.5 million for EAA's Young Eagles Program. The Young Eagles Auction takes place at the "Gathering of Eagles" benefit each year at AirVenture. Ford Motor Company is the exclusive automotive partner and has been a supporter of EAA and Young Eagles through providing vehicles and donations each year to be raffled and auctioned.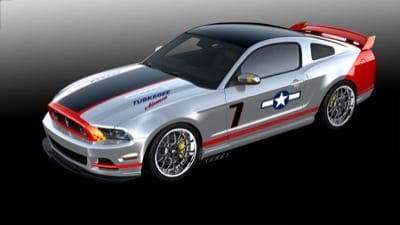 The "Red Tails Edition" Ford Mustang celebrates the contributions of the Tuskegee Airmen and offers a creative connection to the World War II Mustang fighter plane with a contemporary flare for the serious collector. The VIN is #00051 of the 2013 MY build to align with the P-51 Mustangs flown by the Tuskegee Airmen. The one-of-a-kind exterior paint job of polished aluminum and silver chrome has red and yellow accents along with elements consistent with the aircraft flown by the Tuskegee Airmen.  The Mustang will be on display all week, July 23-July 29, at the Ford Hangar at EAA AirVenture.
The auction for the "Red Tails Edition" Ford Mustang will take place on Thursday, July 26, at 7:30 p.m. at the EAA Museum in Oshkosh, Wisconsin. For those interested in an offsite bidding opportunity, arrangements can be made by calling Elissa Lines at 920-426-6101 or elines@eaa.org.
For more information: AirVenture.org
People who read this article also read articles on airparks, airshow, airshows, avgas, aviation fuel, aviation news, aircraft owner, avionics, buy a plane, FAA, fly-in, flying, general aviation, learn to fly, pilots, Light-Sport Aircraft, LSA, and Sport Pilot.