Adventure Pilot has released its Version 7 Software Update for the iFly GPS. New features include Terrain/Obstructions, an Active Alerting System, Vertical Flight Planning, and more, company officials said.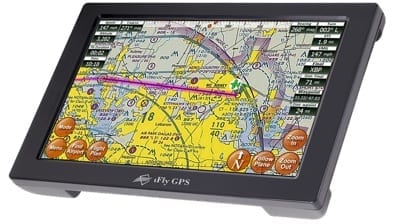 iFly GPS units are shipping from Adventure Pilot pre-loaded with these new features and current iFly GPS owners can now update to the Version 7 software.
Terrain and Obstructions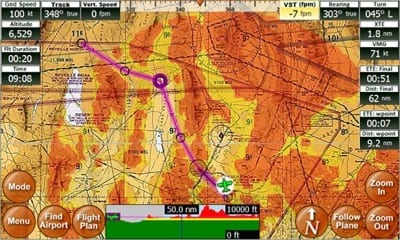 Terrain Mode affords the pilot a perspective of nearby terrain. Terrain highlighting is transparent and can be enabled on the iFly's base maps, including Sectionals, Approach Plates, and Low-Enroute charts. Terrain and Obstruction alerts can be configured according to the pilot's preference: Relaxed, Moderate, Strict, or Disabled.
Walter Boyd, president of Adventure Pilot, noted: "Along with terrain highlighting, we added a panel that shows a close up of the vertical profile of upcoming terrain, obstructions, and airspaces. This instrument includes a projected climb-line, which gives the pilot an instant visual answer to the 'am I going to make that?' question."
Active Alert System
The iFly GPS — even though it's a portable system — has advanced collision avoidance capabilities, according to Boyd. "We based our alerting system on FAA-documented standards and best practices," he said. "The iFly GPS constantly monitors current and projected AGL, while tolerance levels automatically adjust with the flight phase. We even used FAA-defined audible call outs. Our goal was to maximize safety and minimize nuisance alerts."
A small Alert Window provides a centralized location for the management of all active alerts. Pilots may customize the window location to suit their needs. This new alert window actively changes based on the most relevant alert and can be expanded to view more information on the active alert item.
Vertical Flight Planning
The Version 7 Software Update also adds a Vertical Flight Planning feature. This feature provides the ability to reference terrain and customize the flight plan relative to terrain, airspaces, aircraft performance, and even winds aloft.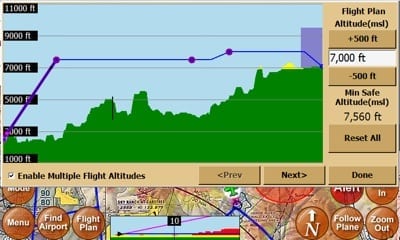 Other enhancements to the iFly GPS User Interface include a PDF viewer, an improved flight timer, new location icons, revised menus, plus faster performance and stability. Adventure Pilot also released a new application for Windows, called iFly Connect, which allows iFly GPS owners an even simpler and faster way of updating their GPS with the latest software and data.
For more information: iFlyGPS.com
People who read this article also read articles on airparks, airshow, airshows, avgas, aviation fuel, aviation news, aircraft owner, avionics, buy a plane, FAA, fly-in, flying, general aviation, learn to fly, pilots, Light-Sport Aircraft, LSA, and Sport Pilot.