WASHINGTON, D.C. — Having the world's leading general aviation company make a strong commitment to using turbodiesel engines is a "welcome and major step in the continued recognition of the many benefits of diesel technology," according to Allen Schaeffer, executive director of the Diesel Technology Forum.
"Cessna's new 182 NXT turbodiesel engine is being described as a 'game changer' by experts in the general aviation industry," Schaeffer said. "With its increased range, greater payload capacity and lower direct operating costs, it's easy to see why Cessna's new diesel powered aircraft is going to transform general aviation."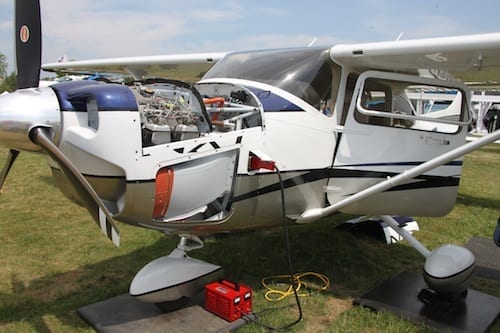 The Cessna 182 NXT has already been certified by the FAA and the European Aviation Safety Agency, according to Cessna's announcement this week.
Schaeffer said that while diesel engines are now emerging in general aviation, diesel power is an established technology and industry that provides prime motive power to a diverse variety of vehicles and vessels ranging from submarines and cruise ships, to race cars and the world's largest construction machinery.
"The same attributes that have made diesel engines the power behind nearly all modes of surface transportation are now driving the future for the aviation industry and Cessna has reinforced its leadership role in aviation," Schaeffer said.
The diesel equipment, fuels and servicing sectors collectively contribute over $480 billion annually to the U.S. economy, with influence on 16 sectors ranging from agriculture to wholesale trade. More than 90% of all global trade is moved by diesel power, according to Schaeffer.
"There is a reason today that diesel powers the overwhelming majority of the nation's commercial trucking, school and transit bus fleets," he said. "Diesel's unmatched combination of availability, safety, energy efficiency and economical operation and performance has made it the technology of choice, but it is also the environmental performance and prospects for even greater energy efficiency that make it the technology of choice for the future."
The new 182 NXT turbo-charged piston engine is a diesel powerplant with the ability to burn Jet A aviation fuel, the same middle distillate fuel used by turbine and jet aircraft. The fuel is similar to diesel, but unlike the fuel that goes into cars and trucks, Jet A is standardized around the world making certification of the engine and aircraft easier, he noted.
Cessna officials predict the new aircraft will have strong international appeal with the transformation to Jet A fuel.
In making its announcement this week, Cessna officials highlighted the environmental benefits that go with the Turbo 182 NXT, which is powered by a turbocharged, direct-drive SMA SR305-230E-C1 engine. The fuel technology used in the engine eliminates concerns about carbon monoxide emissions, fuel mixtures, propeller control and exhaust gas. The engine operates at a lower propeller speed. As a result, the turbocharger technology delivers a quieter flight line and reduces noise pollution. There are zero lead emissions and zero CO emissions. Flight at the maximum cruise speed demonstrates greater fuel efficiency, and will burn approximately 30% to 40% less fuel than comparable avgas engines.
The Diesel Technology Forum is a non-profit national organization dedicated to raising awareness about the diesel engines, fuel and technology. Forum members are leaders in clean diesel technology and represent the three key elements of the modern clean-diesel system: advanced engines, vehicles and equipment, cleaner diesel fuel and emissions-control systems.