Mia, a Yucatan black howler monkey hit by a car in Bermudian Landing, will get a second chance at life after being airlifted to the Wildtracks Primate Rehabilitation Centre in Sarteneja.
The flight, arranged through LightHawk, a volunteer conservation aviation group based in the United States, brought the howler money to the center in northern Belize for rest, recuperation, and, hopefully, restoration to the wild in a few weeks time, said Wildtracks' co-founder Zoe Walker.
Walker notes that while the initial prognosis is good — vets who worked on her say that her concussion symptoms are diminishing and X-rays indicate there are no broken bones — black howler monkeys are intensely social animals who often become depressed and suffer physically when separated from others of their kind.
Making Mia's rescue doubly important is the fact that she is a nursing mother. Rescue workers with the Belizean Forest Department reported seeing a young juvenile in the troop, presumably her baby.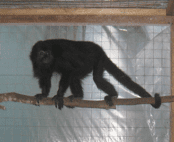 Ideally, she will be released in two to three weeks to her original troop, reuniting mother and child. If not, she probably will be released into the wild in May with a fully rehabilitated group of howlers.
"We hold our breath every time an injured howler comes to us for treatment," said Walker, who founded Wildtracks with her husband Paul. "Because there are so few black howlers left in the wild, it's vital that we save as many as we can."
Hunting, habitat loss, and the global pet trade have taken a substantial toll on black howlers (Alouatta pigra). Conservation officials estimate the population at fewer than 2,500 adults. The Yucatán black howler monkey, which is native to Guatemala, Belize, and southern Mexico, has been listed as an endangered species since 2003.
The donated flight to the Wildtracks Rehabilitation Centre was key to saving the injured howler, said Armando Ubeda, Lighthawk's Mesoamerica and Gulf of Mexico Program Manager.
"The flight will reduce her travel time and anxiety levels," said Ubeda.
Without the flight, Mia faced more than six hours over rugged dirt roads, a trip that could have proved fatal for her, he notes.
For more informationt: WildtracksBelize.org, Lighthawk.org