I was quite pleased that winter was not bad this year in north Georgia. There were a few spits of snow and several cool, rainy days, but all in all, winter was mild. That is…until March came.
Our peach trees began to bloom. Geese flew over by the dozens on their way north, and I decided that before long, those first seeds would be planted in the ground for the family garden, and warm, pleasant flying days would soon be upon us. Wrong.
March came in like a lion and she went out like one, too. It turned cold, wet and windy and stayed cold, wet and windy until the very last day of the month. Actually, March spilled over into April and really tested my endurance for dreariness. Needless to say, visits to the airport included gathering at the FBO around the heater instead of spring cookouts or flying expeditions.
On Thursday, April 4, it was 39°F and pouring rain with an east wind that gusted so strong that it nearly ripped our barn doors from their hinges (They were open because we were foolish enough to try to work in those conditions). On Friday, April 5, spring came. It was nearly 70° with some wind, but it blew on the back of the hangar, a perfect day for spring-cleaning.
So we gleefully trotted to the hangar to bask in the sun and blow out the last of winter. I aired the couch cushions and washed down the refrigerator. The Old Man pushed out the airplanes, cranked up the leaf blower and blew the dust and cobwebs away. I washed the table and chairs. He tidied his tools. When we were done, we decided a cook out would be in order to welcome airport bum weather with open arms.
The flat top grill that we inherited years ago was cleaned and serviced. I sent an email to our fellow JZP airport bums that the hangar was tidy and Saturday looked like an excellent day to officially welcome and celebrate the arrival of spring and some nice flying weather.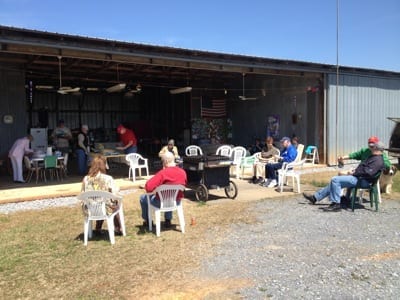 I set the time for 1 p.m., which would give us (and the other pilots) time for a nice leisurely morning flight or breakfast run, but give plenty of time for socializing before an equally pleasant late afternoon flight.
In addition to Henry's famous hot dogs (that old flat top sure can produce some yummy ones!), I added "peaches and cream" corn-on-the-cob from last year's garden with a garlic-citrus butter, some herb and olive oil seasoned roasted potatoes and peaches from last year's crop. I try to offer the gang some healthier choices — don't want to be the cause of any medical renewal issues.
Our gang has these occasions down to a science. Mike is my bun guy. That's something he can handle with ease. He asks how many and what kind, and they are delivered. Russ brings drinks. I try to have water as a healthier alternative, but a good ole soft drink goes well with a good ole dog. Jim likes to bring ice cream, and the vanilla bean went very well with Henry's frozen Georgia Belle peaches.
Reed and Kitty brought zucchini muffins, apple slices and cupcakes. Doc Austin didn't get the email, but since he came out to fly his Cub, he didn't miss it. He went to the local grocery after his flight and bought more hot dogs and some slaw for slaw dogs. Carolyn and Lowell, who also missed the notice, promised to bring the goodies for the grill next time, and that was fine by me. Russell and his wife mentioned hosting a cook out that would feature his fabulous smoked pork butt with Asian slaw, and he could use the flat top to warm tortillas to serve them in. Yummy!
I'm not sure why flying and food seem to go together so well. It may be the camaraderie or maybe flying makes one hungry, but for whatever reason, with less than 24 hours notice, nearly 30 folks came to welcome spring at the hangar. I believe they enjoyed the food. Many flew, and like us, they truly appreciated the smooth, warm air. I know for certain they enjoyed the fellowship, for there were conversations galore, smiles and much laughter.
I will try to remember the day that spring came to north Georgia and how a whole community of like-minded individuals responded with simple joy. For it will not be long now before we wake up one morning and summer will be here. Then we will gather back in FBO, this time huddled around the air conditioner, and wish for the crisp coolness of fall.