By AMELIA T. REIHELD
Parents of teenagers, take note: Here is a mother/daughter bonding experience that doesn't involve shopping for shoes. It all started a year and a half ago, when then-14-year-old Amy White took her first airplane ride ever. It was a Young Eagles flight at Edenton Northeastern Regional Airport (EDE) in North Carolina, and Amy got to ride shotgun with an EAA member from Suffolk, Va. Amy was enthralled, totally sold.
The home-schooled teenager began to do some research. She also invested in a flight simulator for her computer. She took a few rides over the next year at a very quiet airport near her parents' farm, flew her computer, and studied for the written test.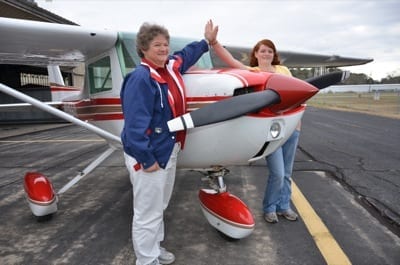 Fast-forward some months. Amy's mother, Viola White, stopped by a farm equipment auction at EDE one spring day to check out the wares. While Vi admired combines and tractors lined up on a long-closed runway, Amy stayed behind to chat with the airport bums. Those gentlemen many decades her senior spend their weekends and afternoons polishing their pretty old airplanes, flying them, and spinning yarns.
Amy recalled, "They showed me all around the airport, gave me a tour of the Spirit of Freedom, the C54 Berlin Airlift flying museum, and one of the men gave me a ride in his Champ. Edenton was such a lively, friendly airport, I had to come back."
The airport manager put her in touch with CFI Bob Clarke, and soon Amy was in a pretty red and white Cessna 150, with air under the wheels. While Amy and her new instructor were out burning avgas, the airport guys turned their charm on Vi, saying things like, "Now you're not going to let her get ahead of you, are you?" But Vi White wasn't hearing of it — yet.
Amy didn't have a driver's license, so her mother brought her to Edenton at least once a week. Between Amy's bouncy excitement at what fun she was having, her high praise for Clarke — "He's the most patient person I know!" — and those supportive guys by the coffee pot cheering her on and offering rides in bright-colored taildraggers, Vi began to weaken.
"I would like to learn how to land," she eventually admitted, "just in case something happened to Amy."
Clarke, of course, was ready for that one. "Let's go!"
Amy soloed on June 10, a date etched in her memory. She passed her driver's test not long afterwards. Her mother soloed the following New Year's Eve.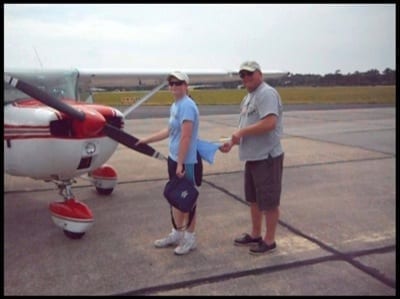 Now, with 75-some hours in her logbook, Amy feels confident of her abilities, and has been "having a ball," while she marks time until her 17th birthday on May 10, and her private pilot checkride.
That day will be a special one for Bob Clarke, too. Amy is the former airline pilot's first primary student in more than 30 years. Both Amy and her mother found Clarke's quiet demeanor encouraging.
Clarke says, "I like to find out what a student is thinking, to let the students tell me what they need, so I can get across things that will keep them alive. I told Amy that I was asking questions not to put her on the spot, but to see what her thought processes were. They were almost always right on target."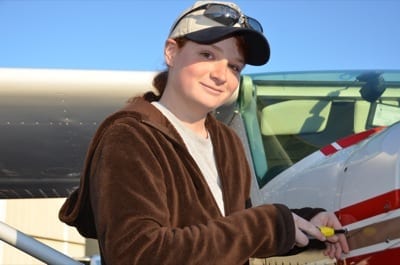 When she isn't planning and flying cross-country flights in the Cessna trainer, she's gleefully accepting every Cub, Champ, and TriPacer ride she's offered. The airport guys see to it that she doesn't let her rudder skills atrophy. The appreciative teenager said, "Flying a lot of different airplanes helps keep your skills flexible, so the opportunity to fly all those different airplanes is wonderful!"
Running a 250-acre farm almost single-handedly, keeping up with household chores alongside her disabled husband, and overseeing Amy's homeschooling, keep Vi's days busy. Now that Amy is driving herself to the airport, Vi hasn't had as much time to fly, but she admitted that getting her own private ticket is high on her bucket list. It makes perfect sense, as she now owns half of the Cessna 150 she and Amy are training in.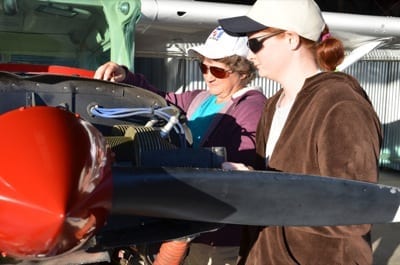 Despite Amy's encouragement, and the thumbs-up support from the Coffee Pot Crew, Vi had her doubts about learning to fly at first. "I saw how hard Amy had to study, and I didn't know if I could learn that much, but we've done it together, and it really has brought us even closer."
While the two collaborated with Clarke recently to put the cowling back on their bird after chasing down a pesky oil leak, Vi said wistfully, "Now THIS is what I wish I had done with my life. I would love to have been an aircraft mechanic!" By necessity, she has spent most of her life repairing her own farm machinery, but working on airplanes, she said, is both interesting and fun. "Actually, being around airplanes in any way is just great. I just love to fly!"
On a typical day, Amy spends the first few hours of each day on her lessons, where her favorite subjects are science and math. Then she turns her attention to her art. She also edits and publishes her own flying videos. (search 77PlaneNuts77 on YouTube to ride along on her first solo, the "most amazing experience" of her young life, and remember your own joy.)
A talented self-taught graphic artist, she has several logo jobs in the works (she recently cashed her first paycheck) and hopes to combine those interests when she goes to college. When and where will that be? That is yet to be decided, but for now, the important thing is to get that private pilot's license, and start down her list of special people who want rides.
First in line is the White's next-door neighbor, who has followed Amy's progress with almost as much interest as her own family. Then her dad wants a ride to a fondly-remembered restaurant over in Boone, N.C., and even her two older siblings are slowly coming around.
But her friends? Not so much, she said, with an uncomprehending shake of her coppery hair.
"When I mention what a fabulous day it was to go flying yesterday, they're like, 'oh,' and change the subject. How can anybody not find flying exciting? It's like getting in a time-machine. I wonder, how did I get here? Every time I start taking it for granted, I climb in the airplane, and that feeling comes back again."