Aircraft Structures International Corp. has received STC approval for its Wing Jack Pad, L.E.D. Cargo Pod Lights, and Standby Flap System Limit Switches for the Cessna Caravan 208 and 208B.
These three STCs will make the Cessna Caravan 208 and 208B safer, easier to maintain, and more convenient for all who use it, company officials said.
Wing Jack Pad: This STC is an auxiliary set of jack pads that attach to the upper wing strut bolt and an adaptor for the tail stand. With the installation of this STC, less maintenance time and less man power is needed to complete specific jobs, such as changing tires, landing gear corrosion inspection or weight and balance, company officials explain. There is no need for a crane or hoist to remove, install or repair floats.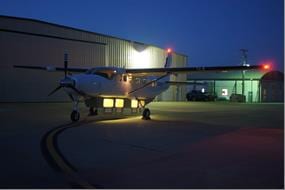 L.E.D. Cargo Pod Lights: The lighting package consists of three lights (208) or four lights (208B), a timer, conduit, mounting hardware and wire harnesses. The lights are mounted over each cargo pod door opening. The 1/2 amp needed for the lights is supplied from the existing interior lighting system
Standby Flap System Limit Switches: As installed, the normal airplane flap system is equipped with a standby motor that may
be utilized in the event of primary system failure. However, the Standby Flap system does not include any method to protect the structure from overextending the system at either the upper or lower end of the flap travel. When the system is overextended, structural damage will occur.
To prevent over-travel of the flap with use of the standby flap system, a modification to the system is installed. The newly installed switches will serve to limit the travel of the existing standby system. A wiring receptacle will be installed in the RH wing root rib to accommodate the installation of the switches.
For more information: 580-242-5907, ASIC.aero