LOS ANGELES – Guests to the premiere of Disney's new movie "Planes" got a taste of flight for themselves by stepping off the red carpet and straight into a flight simulator from Redbird Flight Simulations.
A Redbird MCX was installed on the red carpet of the El Capitan Theatre on Hollywood Boulevard to allow celebrities to experience aviation.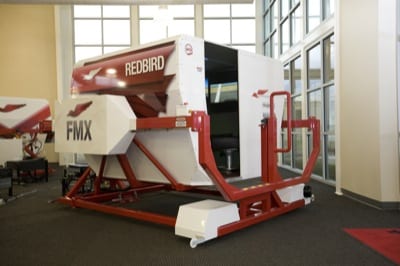 Redbird Flight Simulations, an Austin, Texas company, builds a range of simulators from full-motion, FAA-certified platforms used for professional pilot training to personal proficiency. These training platforms can deliver immersive and interactive flight experiences that both teach and entertain.
Planes is a 3D comedy adventure starring Dusty (voice of Dane Cook), a plane with dreams of competing as a high-flying air racer, despite his fear of heights. Before Dusty's story unfolds on the big screen, the Redbird simulator offered the experience of flying over Los Angeles with aircraft motion and wrap-around visuals. The virtual skies over L.A. will even be populated with plenty of other aircraft, giving the pilot flying in the Redbird the Planes feel of a world above Cars populated by flying machines.
The flights by celebrities may be just for fun, but the same Redbird simulators are used for pilot training on every continent except Antarctica. Since shipping its first unit in December 2008, Redbird has become the largest flight simulator company in the world in terms of units sold. Redbird also operates the Skyport, an aviation-training laboratory and flight school in San Marcos, Texas, where it has pioneered simulator-centric training and one of the most cost-effective methods for earning a pilot certificate available today.