The mantra "if you build it, they will come" may have worked to attract baseball fans in the movie "Field of Dreams," but it take more than a runway to attract homeowners to an airpark.
For the developers of SilverWing at Sandpoint Airpark located in Sandpoint, Idaho, there were three important attributes in mind when they looked for a place to build a new airpark.
"It had to be adjacent to a public airport with a runway long enough for larger aircraft; it had to be close to a vibrant town where people could walk or take a short drive to restaurants, shopping and activities; and it had to be in a beautiful location that offers year-round recreational activities and flying," said Mike Mileski, one of the developers of SilverWing at Sandpoint,.
The project was spearheaded by owner John McKeown, an avid pilot who had always wanted to build a residential airpark. A flight that took him over Long Bridge, Lake Pend Oreille, and downtown Sandpoint, culminating with a landing at Sandpoint Airport (SZT) on the 5,501-foot runway convinced him he'd found the right place.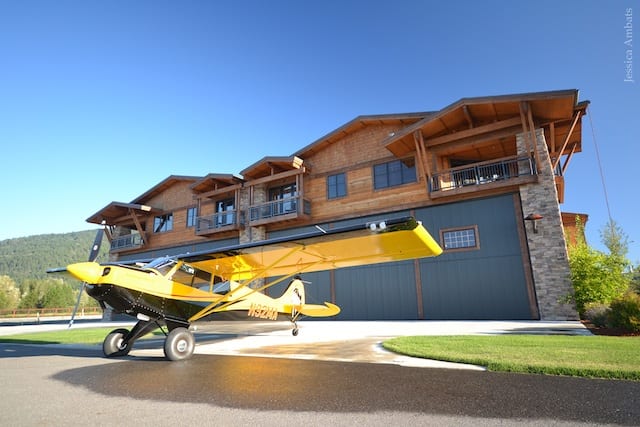 The airpark is located on 18 acres adjacent to the airport. SilverWing purchased the property in late 2006. The first model home was completed in 2011.
There are 44 residential lots ranging in size from 6,000 square feet to 27,000 square feet. Lots can be individually built on or combined for larger hangar-home units.
"There are five designs to choose from, ranging from a 50 x 42 foot hangar with an equal size residence above to a 60 x 70 foot hangar with over 4,200 square feet of residence above," said Mileski. "The average cost of building a hangar and a residential shell starts at $75 per square foot and can increase depending on finishes and other items an owner wants to do. All of our lots are on fee simple land and ready for immediate build out."
Lot buyers have the option of using their own contractors or using SilverWing's builders. They can also buy the lots and hold them for future use, he noted.
The streets, entryways, taxiways, parking and tie-down areas are paved. The community is fenced with a gated key pad entry.
Mileski noted that there are plans for the construction of a 10,000-square-foot common area, which will include an exercise center with a pool and spa and a BBQ area.
The airpark is under the jurisdiction of the City of Sandpoint, while the airport is owned and operated by Bonner County. The development has a recorded perpetual easement for access to the runway, as well as an approved residential Through The Fence agreement with Bonner County, in perpetuity.
"Having a TTF agreement with an airport sponsor on a public airport is an extremely rare attribute to an aviation-related residential development," said Mileski.
A recent decision by the FAA that all new TTF agreements will be considered on a case-by-case basis means that future approvals may be difficult to come by. That decision also grandfathered in existing TTF agreements, like the one at SilverWing, Mileski noted.
The perpetual TTF is structured so that each owner pays an annual fee of $150 to Bonner County for these access rights. Additional fees of $75 per year will be required for any additional aircraft that is hangared for longer than 30 days a year.
SilverWing also runs the full service FBO on the Sandpoint Airport through a sister company, SilverWing Flight Services. The FBO offers both Jet-A and 100LL, as well as other amenities desirable to pilots, such as a pilot's lounge, rental and courtesy cars, catering, de-icing, hangar space, and tie-downs. Flight instruction, scenic tours, and aircraft rental are also available.
Mileski noted that the airpark developers are not the only people to see the appeal of the northern Idaho community.
"The Sandpoint Airport is one of a few mountain resort airports located in the center of town, just minutes from skiing, boating, shopping and restaurants," he explained. "USA Today named Sandpoint one of the best five small towns in America and we couldn't agree more. In the winter, Schweitzer Ski Mountain is the place to be. Just a 15-minute drive from the SilverWing, Schweitzer was named the 'best kept secret' by Ski Magazine. From the top of mountain, at 6,400 feet, the stunning views include Canada's Selkirks, Montana's Cabinet and Bitterroot Mountain Ranges, as well as Lake Pend Oreille. Downtown Sandpoint is picturesque with holiday lights, earning Travel + Leisure's accolade as one of 'America's Prettiest Winter Towns.' When the weather heats up, activities on Lake Pend Oreille are boundless. At 65 miles long and 1,150 feet deep, Lake Pend Oreille is Idaho's largest and the fifth deepest lake in the United States, making it great for boating, kayaking, fishing and more."
In addition, Sandpoint has a thriving arts community with year-round cultural events, including art gallery tours, and a community-owned theater that features performing arts and weekly films, he said. Sandpoint is also home to many festivals, including the two-week-long Festival at Sandpoint, an annual event featuring showcases of both international and local composers, and performing artists in an outdoor setting on the shores of Lake Pend Oreille.
A virtual tour of the development, including a fully-furnished model home, is available on the SilverWing at Sandpoint website.