PRINCETON, N.J. — A new flying robot is being developed to help athletes elevate their performance while helping to prevent sports injuries, including concussions, cardiac incidents, and heat-related illnesses.
Borne out of a New Jersey flight academy, the AeroTrainer is an unmanned aerial video biotelemetry system designed to give athletes and teams, together with their coaches and trainers, a full picture of athletic performance and physical activity.
"While the AeroTrainer will be capable of features such as racing alongside a track runner or automatically following specific plays or players on a football field, it will also monitor heart rates, body temperatures, and the frequency and intensity of impacts to give coaches a real-time picture of their players' physical status," said Moses Frenck, president and CEO of Samexa Corp., which operates Mercer Flight Academy and Mercer Flight Works in central New Jersey.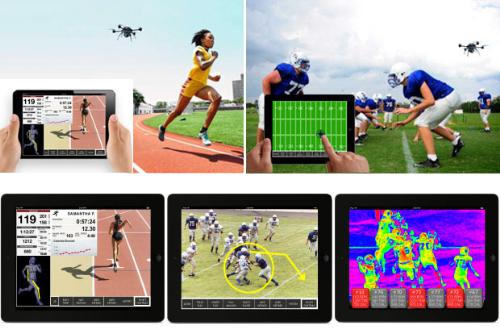 "The aviation and robotics industries are morphing at an accelerated pace. Autopilots, navigation systems, and advanced flight controls typically found in traditional aircraft are being replicated in more advanced ways in unmanned aerial systems," Frenck added. "The AeroTrainer will bring these technologies to athletes and their trainers to enhance their training and help prevent injuries."
The AeroTrainer flies above and around athletes, using biomechanical sensors and software to record and transmit video and any combination of physiological signals. The system combines a multi-axis camera system to capture 360° of video and conduct 3D movement analysis, according to company officials. Modeling the body as it moves helps to improve form and reduce the risk of injuries. Monitoring the body for overheating and head impacts can help save lives, officials add.  
The AeroTrainer also gives users the ability to access data and video through the myAeroTrainer app. Coaches can analyze and share plays, while athletes can access video to create highlight reels for analysis and recruitment purposes.
The company has launched a crowdfunding campaign through Indigogo to raise a portion of the funds for development and real-world testing, including donating AeroTrainers to high schools for testing and continued use.
For more information: MyAerotrainer.com