Kermit Weeks announced March 4 that Fantasy of Flight, his central Florida aviation-theme tourist attraction, will close to the public after April 6, the last day of this year's SUN 'n FUN airshow/fly-in just 20 miles down I-4.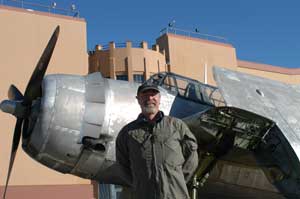 The site will continue to function as an aircraft restoration center and will welcome group functions such as weddings, business meetings and corporate events, he said. Of a reported 65 employees, half may lose their jobs.
"We're currently outside the center of mass tourism and not perceived as a destination," Weeks told local Orlando and Tampa media.
Opened in 1995, the attraction had to raise its admission fee to today's $29.95 ($15.95 for kids) — expensive for an air museum, but a fraction of Disney World's near-$100 day rate.
Weeks told local media that Fantasy of Flight "never made money a single year."
Weeks said he plans to re-open the venue in late 2014 as a scaled-down museum. But he also told media, "I'm going to get some of the best minds in the design business. We're going to look like the big boys up the street (e.g. Disney and Universal theme parks) but with a completely different product."
For years, Weeks has talked about offering aviation to the public not as past history, but as an element of a modern-day active, adventurous lifestyle.
However, next month's end to daily tourist operations will reportedly shutter some of Fantasy of Flight's recent new offerings, including a WingWalk tour and a Zip Line.
Weeks told The Lakeland Ledger, "I turned 60 last year… it's time to move on. Instead of focusing on a business that quite honestly is not sustainable, I can focus my energy and resources towards a dream that will sustain."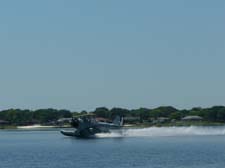 Fantasy of Flight is midway between Orlando and Tampa on busy Interstate 4. It boasts two runways (2,500 and 5,000 feet) and a large adjacent lake that hosts the SUN 'n FUN's annual "Splash-In."
Weeks' collection of more than 100 aircraft is said to be the largest in private hands. He relocated his operations from South Florida in 1992 after his Tamiami location was decimated by Hurricane Andrew.
Fantasy of Flight boasts a custom-built terminal and hangar complex of 1930s-1940s design and décor. Among Weeks' unique aircraft is a huge 1944 Short Sunderland four-engine flying boat said by the late R.E.G. Davies, Smithsonian historian to be one of only four extent after World War II.
"Fantasy" visitors would enter through an Art Deco air terminal and coffee shop, then plunge into the dark days of World War II face-to-face with a B-17. After walking through several other engrossing "experiential" scenarios, guests could freely wander around several hangars full of airplanes from World War I, the Golden Age of Aviation, World War II and post-war types. Many days, Weeks would fly one or more of his vintage planes for the crowd.
© 2014 Drew Steketee All Rights Reserved